By Lulu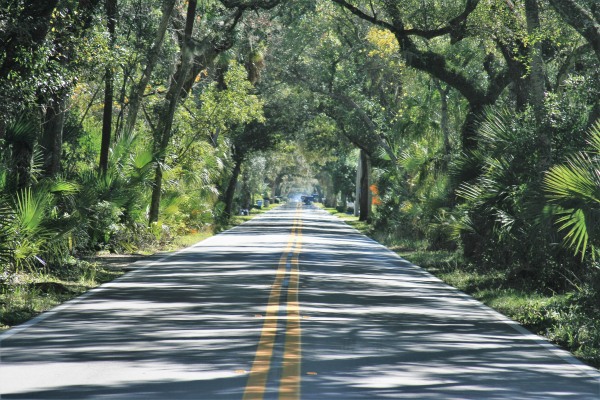 March is right around the corner and thousands of motorcyclists will invade Volusia county. There are obvious spots that are on any rider's not to miss list when attending Bike Week or Biketoberfest. Bruce Rossmeyer's Daytona Harley-Davidson must be first on the list. Whether you are shopping for a new bike or gear you can spend hours inside. Saints and Sinners is a full-service bar on the property with great sandwiches for hungry bellies. Then there are the famous bars frequented by the masses: Iron Horse Saloon and Beaver Bar in Ormond Beach, Boot Hill Saloon and Main Street Station in Daytona Beach are all world famous for music, t-shirts and fun. If you like to see a bit more skin, you should check out the fantastic insides of Grandview Live. Looking for great food at an outdoor tiki First Turn in Port Orange on US 1 has become the place to ride to. And while you are down on the southern end of US 1 in Volusia check out The Boat Bar in Port Orange and Bay 3 Bar in New Smyrna Beach. Both are beer and wine only BUT have really GREAT prices and lots of fun all year long. Cabbage Patch is a short jot out on Tomoka Farms Rd. in Samsula infamous for Coleslaw Wresting women, it is also a fun place to listen to music and throw a cold one or two down. OB's in Deland on N. Highway 17 has some of the best burgers in town and a huge outside bar with a Wednesday night bike night featuring live music and food specials. And in Holly Hill Chris' Lounge has been pouring stiff ones for too many years to count, and right down the street is Rudy's Bar & Grill. Rudy is one of the most patriotic guys I know! You can find many more drinking establishments in our county, but I mentioned the ones I love…and who happen to support our magazine!
We are also known for NASCAR and a must see is the remodeled track on International Speedway. Last Bike Week they brought back TT Flat Track Racing which will be running on the dirt again on Thursday, March 15th.
The World-Famous Daytona Beach still allows you to ride on the sand and look at the crashing waves of the Atlantic Ocean. South on A1A is the Ponce Inlet Lighthouse, a nice place to spend an afternoon. Watch your speed there!
The "Loop" had some problems due to Hurricanes the last two Biketoberfests but it is back open and a wonderful ride under the canopy of old oaks. We usually start on Beach St. and W. Granada Blvd. (S.R. 40) following the Intracoastal Waterway going north on Beach. It is a scenic ride with winding roads, scenic water views and parks along the way. Also, there are points of interest worth stopping for. The Tomoka State Park on your right has an interesting small museum with exhibits of art and history for $4.00 per vehicle. There is a dirt road which takes you back to an outdoor monument of Chief Tomokie designed by Fred Dana Marsh.
The next stop worth braking for is Bulow Creek State Park on your right. There is no charge but inside is a beautiful 2000-year old oak, The Fairchild. You don't even need to put down your kickstand to see the old oak, so make sure you pull in. By the way, it is the first entrance to the park, the second is a long dirt road to nowhere and kind of tricky on a bike.
Of course, we have golf courses, putt-putt, kayaking and other tourist spots. In Deleon Springs there is a great place you can make yourself pancakes at the griddle on your table, and make a day of it by going out to visit the manatees at Blue Springs. Stop for a cocktail as you pass by OB's!