By Lulu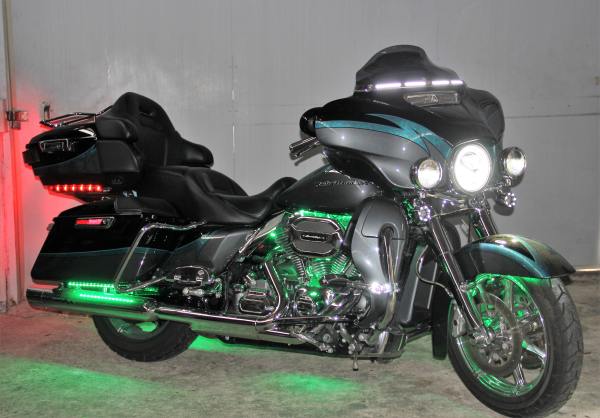 It seems as soon as I first noticed LED lighting on bikes, Ken Gardner was on the cutting edge of it. According to Ken, he started helping friends install lights on their bikes, then friends of friends' bikes and the next thing you know he was in business. Sherry at Iron Horse first talked him into setting up during their Church of Chops Labor Day event in September of 2011, then Scott Demonico of Rally Leathers helped him take it on the road…and miles and miles of highway later Ken and Jamie have already outgrown their first showroom in Holly Hill and moved to a 2.5 acres site with a 3,600-square foot warehouse in Ormond Beach. The new location is 1170 N. US Highway 1 across from Smiley's Tap. This is the first year they haven't closed for the summer riding season but according to Ken "with customer traffic, internet sales, dealer sales and customer service, they need to be open year-round". Custom Lighting is open Monday-Friday 9-5 or by appointment. Most jobs can be completed in 30 minutes to 6 hours on the same day, he sends customers across the street to Smiley's for a bite to eat while he installs.
We all see bikes lit up like Christmas trees, but Ken states that 80% of his installs are navigational lights. His business was created with a focus on safety. At the Americade Rally in Lake George, New York this year he installed LEDs on 100 bikes and only two were for decoration. Tail lights start at $150 with a complete rear conversion to LEDs (turn signals, tail lights and modules) is $500. A total conversion can be done for less than $1000 and includes a lifetime warranty. The products are primarily from Custom Dynamics. Their product line has a Smart Triple Play which allows turn signals to blink even when brake lights come on. They install lights on all types of bikes including Can Ams, although most bikes he works on are Harleys.
As far as decorative lighting there are laws. In Florida, red lights cannot face forward, amber cannot face the rear and blue lights cannot be displayed while driving. The goal with all lighting installs is to protect yourself!! How many times have I heard people say, "I just didn't see the bike", even people who ride!
Ken and Jamie both ride and participate in the biking community. They help sponsors the You Decide the Ride quarterly event with The Rock of Daytona. Ken's 2015 Ultra Classic Screaming Eagle CVO is sweet and has the perfect amount of lighting to make sure you see him coming. Ken is originally from Lansing, Michigan and worked as a skilled tradesman with General Motors and became a Manufacturing Engineer. He moved to Kansas City, Kansas for a bit and retired to Florida for "the weather". Didn't stay retired long and I would bet works harder and longer than he ever did before being self-employed. Ken and Jamie feel they have a "responsibility" to the biking community and started mentoring others who are interested in getting into the LED business. He says there is no way we can light every bike and feels it is urgent to make bikers as visible as possible for their safety. So, he teaches people the skills he has refined, helping to spread the light of safety and to help people make money.
Ken has one other passion similar to flying down the highway on two wheels. He is a pilot, and if you visit his shop you will notice his project…a helicopter he is building. Check out their new digs and get yourself some LEDs for protection. After all, riding is like being in a video game and it seems like everyone is out to get us. Anything we can do to make us safe is critical and Ken and Jamie can help you light your way to safety!! "Be safe, be seen"!