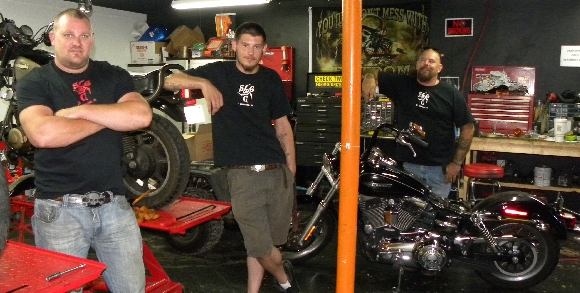 By Lulu
Six Gun Cycles at 115 Anastasia Blvd. in St. Augustine opened their doors in March of 2012 with a concept of having a local full service bike shop conveniently located near the heart of St. Augustine. Amy, who has been riding with her father for twenty years, is the owner. As a child she traveled cross country for a month on a bike with her dad. She is a busy lady, not only the owner but also the office manager for a high end custom home builder and an Ambassador for the Ponte Vedra Chamber of Commerce. She recruited Alan, an independent agent for corporate marketing and sales, Pat to manage the service department and Jeremiah as the service tech. Between them both they have over 30 years of knowledge in motorcycle mechanics. Six Gun's ad tag line is "Your only one stop shop in St. Augustine for all your biker needs, American or Metric". They love a good challenge and have totally redone a 1966 Honda Dream, and a 1972 Moto Guzzi & 1977 Bonneville "frame up"! Pat's 1988 FLH is the pride of their shop with over 300,000 miles and sports a uniquely detailed paint job by artist Tyson at Rimtatts.com featuring Sailor Jerry Tattoo art.
They also have parts, accessories, leather, and apparel and biker consignment clothing and accessories in their 2200 square foot showroom. They are a full line service shop with 24 hour emergency pick up, detailing and maintenance. Six Gun Cycles offers a discount to St. Augustine residents and biker clubs on parts and apparel. They are already involved in the biker community and sponsored the ABATE September run and were involved with a breast cancer run last month.
During Biketoberfest they will feature a bikini bike wash, beer and free food. Six Gun Cycles hours of operation are Monday-Friday 10am-7pm, Saturday noon- 5pm. You can check out their monthly specials on Face Book and their website at sixguncycles.com.
Six Gun Cycles, Inc. is currently building their brand with their own line of apparel and have an EBay store, With Amy's finger on the trigger of success and her staff's years of experience they should do well in their endeavors.
One Response to "Cycle Business Profile: Six Gun Cycles of St. Augustine"