By Lulu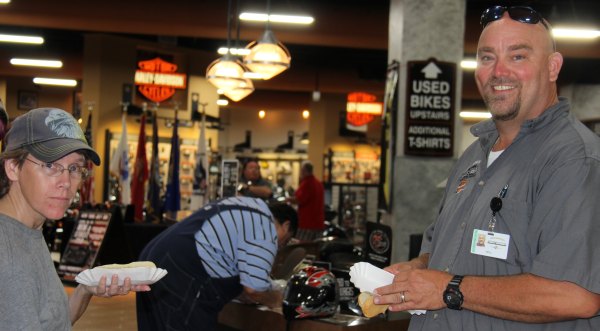 Bruce Rossmeyer's Ormond Beach location has been having extended hours monthly. In June, they threw in a Garage Party for lady riders and this month care of your motorcycle was the featured topic. Ted Koester gave an in service demonstration on bug removal, washing and waxing and chrome and leather care.
I loved the S100 product for fast suds and an easy wash! BUGSLIDE is his recommendation for bug removal and Pig Spit for the black motors featured on many Harleys now. Lucas Spray Glaze for paint and chrome ends with a pretty shine. After the class the ladies headed to the showroom for free hot dogs.
It is a great way for lady riders to get to know each other and to learn care…and easy ways to care…for their bikes! All the products mentioned for care of your bike are available at Destination Daytona Harley!