By Lulu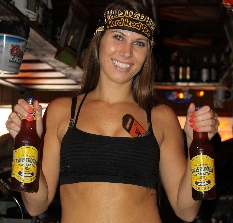 By the time you read this our final Twisted Tea featured Bike Night will have occurred and the $500 cash will have been handed out. But September we had a blast getting Twisted at Dirty Harry's.
They definitely put out a great spread as you can see by the serving line picture. The band Tri Maris rocked the place and then there was a guest appearance by Elvis.
Historic Main St. in Daytona Beach is the heart of Bike Week and Biketoberfest and Dirty Harry's, Full Moon Saloon and Banks & Blues are there year round ready for you to come and party!!!