By Phoenix and Metric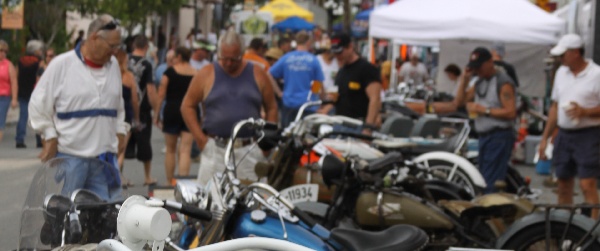 In the first weekend in October we usually think of the perfect riding weather with cooler, dryer days with a touch of chill in the night air, but not this year at the 9th Annual Run to the Heartland in downtown historical Sebring. Someone forgot to tell Mother Nature it was October. The days were hotter then Hell with afternoon showers raining down on our activities.
While the weather and the economy put a damper on attendance, the brave souls who attended this year's event were treated to an awesome fun-filled weekend. Opening ceremonies on Friday included the Highlanders USMV MC Honor Guard and our own local Bagpiper Mark Manley. On stage the band Power Surge and the Shannon Reed band got the party started.
Saturday started with one of the most scenic rides though the best countryside Florida has to offer. While the White Collar band and the band Ransom got historical downtown Sebring hopping, Jerry "The Motorman" Paladino and the Central Florida Motorcycle Drill showed off their riding skills.
Sunday we were treated to a continental breakfast and bike blessing courtesy of the Christian Motorcycle Association, with bands Spirit Wind and the band Fakahatchee wrapping up a weekend to remember. If you have never made the Run to Heartland mark your calendar for the first weekend in October.