Jeff Simick (Daytona HOG)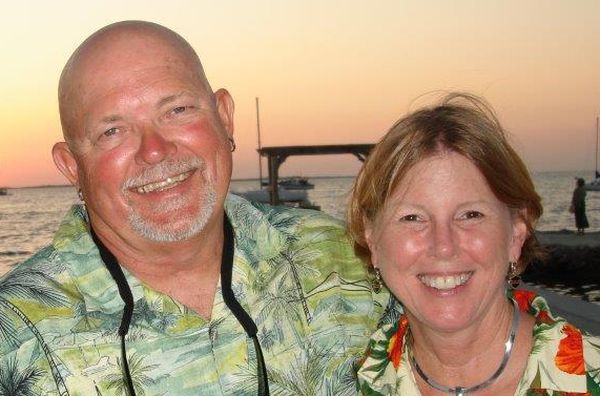 I want to reassure you that Mike and Sandi Gilbo's final few hours on this planet were filled with laughter, joy, pride and fellowship.
That's not speculation. That's fact.
I know that because I sat across from Mike and Sandi as we enjoyed a sunny afternoon on a picnic bench outside at The Yalaha Bakery after a 100 mile country ride that punctuated what should have been a perfect winter's day.
Perfect.
Until it wasn't.
For most of the day, I was following Mike and Sandi, who were proud new owners of a Rushmore edition Ultra Limited. Almost as if it were a new member of their family, they were beaming over the bike that replaced their well used 2011, upon which they shared more than 70,000 miles of riding – mostly together.
At the Bakery, the group splintered off – some gathered inside, some outside. I settled at a table across from Sandi and Mike. We laughed about wheeling and dealing – they for the new motorcycle, while I shared the adventure of swimming with sharks during a recent automobile purchase.
Sandi and I talked about real estate, and her growing business as the market continued to rebound.
I will savor the small talk – the chatter that I didn't appreciate would be my last with Sandi and the beloved she called "my Mike."
Mike told me about the classes and YouTube videos that were so helpful in learning the intricacies of the new entertainment system on the Ultra. He cheered on his success in finally pairing his phone. The beauty of the integrated garage door opener – something he called "the best $125 he ever spent on the Harley." We laughed aloud when I noted, with more than a touch of dripping sarcasm that "It's odd about Harley owners – we are actually surprised when the bikes do what they're supposed to do."
Sandi was still tending to her sandwich, when Mike volunteered to pop back into the bakery to secure the cookies that they would be tucking away for later. They were veterans of the Yalaha and were clearly thrilled with their return visit. Mike consulted with Sandi at least twice, saying with a grin that when it comes to cookies he's "always afraid that he's choosing the wrong ones".
As Mike and Sandi were finishing their desserts, I noticed that there were only a couple of bikes still at the Bakery — most of our colleagues had already headed back. Mike and I turned our focus to compare our respective routes home. Mike and Sandi were heading north…Tony Ricci and I would take a ride that was more easterly – and I joked to Mike that "I don't know specifically how we're going – I'm just following Tony."
I shook Mike's hand and, as we have done countless times before, we wished each other a safe ride home.
Minutes later the music that was being beamed into my helmet speakers from my cell phone was interrupted by an unexpected call. It was a phone call with some terrible, unbelievable – absolutely horrific – news. It was apparent that only one of us would make it home on this otherwise perfect afternoon.
Mike loved his time with Sandi. And they savored togetherness on the Harley.
The events that unfolded on this Saturday afternoon are sadly, almost romantically, ironic.
We can't explain.
We can't understand.
We can only celebrate lives lived with fervor and freely shared with all of us. And I will hold dearly those moments of laughter, joy and pride – a handshake and a smile.
Farewell, my friends. You loved together. You rode together. And you remain together. Forever, together.
And if it's not asking too much… about our friend Bod, who died late last year in a motorcycling accident in his native Norway… please let him know that we all said "hello."
A tribute can be viewed at: http://fredharrisfamily.com/mike–sandi-gilbo.html