By Lulu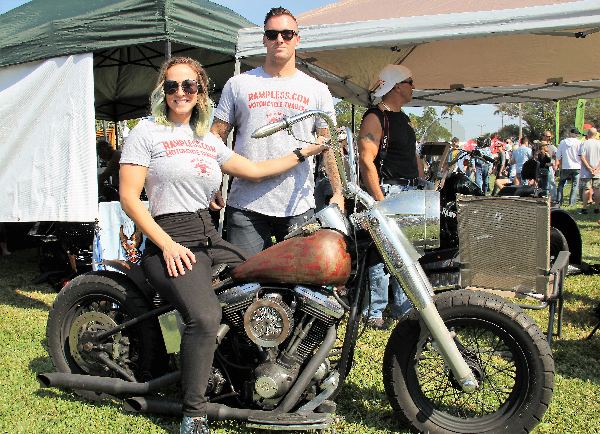 How someone enters the world of motorcycling is always interesting. Particularly true in Sam and Juliet's case, where their love of motorcycling ended up branching into a family business.
Sam Graffeo at the age of 15 was a hardworking teen. Mowing yards in Birmingham, Alabama to earn money for what he needed. When he spotted a Honda 175 Crossover sitting in a client's garage. Even though it was forbidden by his parents, he bought that bike and brought it home. His father caved in and allowed him to keep it. And his love for bikes was hatched. He states he had bikes most of his life, although as many fathers do, he gave up his "toys" when he first started having children. It wasn't until his son turned 20 that they started planning a purchase of their first Harley. While he was traveling his son bought a Dyna Wide Glide and called his dad and said, "I bought a teal and chrome Harley". Sam was a bit shocked that it was a teal bike, but when he got home he said, "it was absolutely gorgeous". Together they started to take trips and Sam ended up buying his first Ultra Classic Fire Fighter Special, so he and his wife could ride on long excursions. They took trips to the Keys, the Smokey's, etc. Sam is the president and CEO of SG Steel in Ft. Lauderdale for 23 years. So, time off is limited. Hence, the need to trailer to distant locations was a real need. Now they pick a city to explore on two wheels. Two years ago, he invested in a trailer designed to easily lower to the ground, for ease and safety while loading. The company is Rampless Motorcycles Trailers. You can see their product at Destination Daytona inside Bruce Rossmeyer's Daytona Harley-Davidson. Sam will be inside the store Thursday through Saturday during Biketoberfest. Or check out their website to see the video at RampLess.com.
RampLess is a family affair. Daughter Juliet Laney works with her father and is a part-owner. She shares her father's love of riding and got her endorsement at 25 and began riding that teal Dyna. Now married to Wyatt she is happy to take the backseat of his Dyna Street Bob. Wyatt owns a new craft beer bar "Beer Co" on Flagler in Ft. Lauderdale. He has a Big Twin hard frame in the garage. Both Juliet and Wyatt have the motorcycle bug and enjoy their time on two wheels.
Rampless Motorcycle Trailers is based in Ft. Lauderdale but have expanded to include a manufacturing facility in Fayetteville, Arkansas. They are looking for distribution sites throughout the southwest. Rampless Trailers remain USA built and they are built to last! They are designed to be the safest, easiest and fastest way to load your bike and go! Designed to load flat on the ground while remaining hooked to your vehicle. Stop in Bruce Rossmeyer's during Biketoberfest to meet Sam and check out a Rampless Trailer.
`