By Ron Cox

Upwards of 2,000 HOG's and their guests converged on the Mission Inn in Howey-in-the-Hills to participate in the annual Florida State HOG Rally Oct.31st to Nov.3rd. In addition to the Mission Inn venue, Lake County's two Harley-Davidson dealerships, Stormy Hill in Clermont and Gator in Leesburg also hosted significant events.
On Wednesday, in addition to Registration there was a Poker Run, self-guided rides and the topper a Street Party sponsored by the Clermont Downtown Partnership.
Thursday featured more self-guided rides, continued Registration, another Poker Run, guided tours, another Street Party thrown at the Tavares Entertainment District on the Waterfront and the HOG's first crack at the vendors set up at Gator Harley.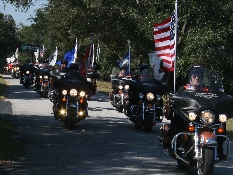 Friday kicked into high gear with even more rides, tours and registration. In the afternoon there was a Tech Talk session with a Master Mechanic and HOG Regional Manager Valerie Ledterman led an open discussion of the Motor Company's plans for the 110th Anniversary celebration in Milwaukee. Later there were Drill Team demos and the Leesburg Street Party "Thunder in the Square" presented by the Leesburg Partnership. If that wasn't enough the first round of bike games occurred and there was live karaoke music back at the Mission Inn.
Saturday offered even more of the above and the police escorted Parade of Chapter flags which started at Stormy Hill and ended at Gator Harley. The closing ceremonies featured awards to many of the volunteers and the announcement of next year's Rally location which will be the Ft. Walton Beach/Destin area. One of the highlights was the awarding of the Longest Distance prize which went to two men who traveled more than 3,000 miles from Las Vegas, Nevada and Liberal, Kansas. Valerie Ledterman made heartfelt plea to the audience to help the people in the Northeast who suffered unimaginable losses from Hurricane Sandy. The site for the New Jersey State HOG Rally vanished. The crowd ponied up $1,028 and Ledterman matched the sum from her own pocket, forwarding the $2,056 to the American Red Cross.

Capping the night was the concert presented by Three Dog Night. The legendary rock band played their top hits on the Main Stage at the Mission Inn.