By Lulu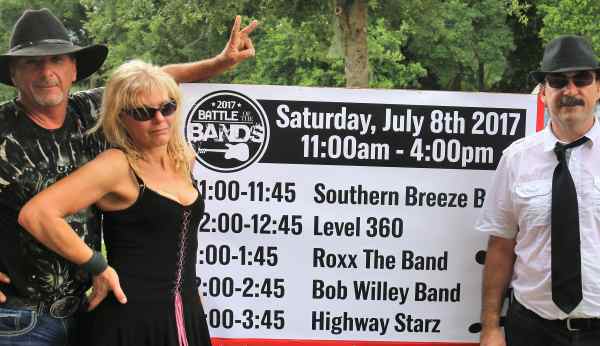 Well everyday of being in business for 24 years can't be blue skies and sunshine, and the weather gods didn't smile too kindly on the Battle of the Bands at Gator Harley-Davidson in Leesburg. Dark skies and occasional rain burst I am certain kept a damper on the crowds but it certainly didn't ruin the day of awesome music.
In fact, for those on two wheels who did brave the bad forecast, it was a nicer than normal July day at Gator H-D in that the temperature was much more pleasant than a typical July afternoon. But the music was hot all afternoon. The band line up included Southern Breeze Band, Level 360, Roxx the Band, Bob Willey Band and Highway Starz. I would not want to choose the winner! But the winners are first place Highway Starz, second place Bob Willey Band and third place Roxx the Band. Any of the bands would be great to hire for you bar owners reading this.
As part of the anniversary bash, there was 20% off all licensed Harley product inside and I must admit I snuck away from TJ long enough to bring two great shirts home with me!
Jan and the staff at Gator are always going above and beyond to put on a good time and to service your motorcycle and apparel needs. Stop in and see them and tell them happy 24 years in business!!!