By Lulu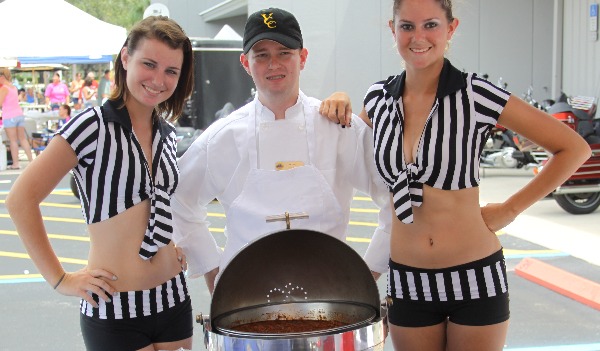 Peggy and the hardworking crew at Gator-Harley believe in community involvement. This is one dealership that strives to participate in supporting the good works that bikers are known for. In September we rode over to Gator for a day of chili tasting.
At this event different clubs or individuals cooked chili onsite and for $5 you could taste and vote on all the different recipes. The proceeds benefit the Lake County Professional Firefighters Charities. Sponsors included Wendy's, Hurricane Dockside Grill, Victory Casino, Buzzard Beach Bar, Care Plus Health Plans and lawyer Brent Miller who handed out the trophies. Wendy's, Hurricane and Victory Casino even had chili booths although they weren't part of the 11 to vote for.
My favorite Eagle Riders didn't win, although it was DELICIOUS. The Neon Truckers rocked the pavilion all afternoon and the weather Gods were good to us all that afternoon and we managed to stay dry. For a first time event I have to say it was well organized, all the chili was good, and I am certain the Firefighters Charities will put the contributions to good use!