By Lulu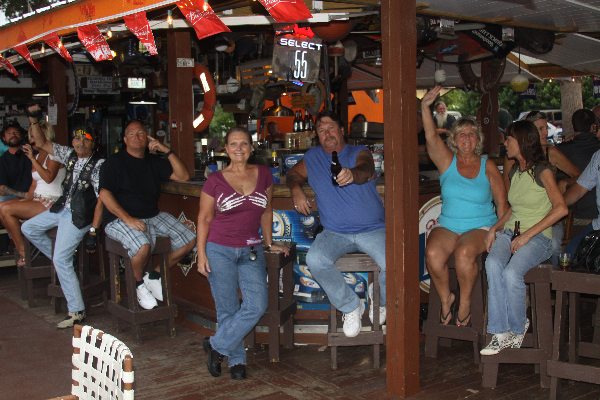 Our first of 5 Twisted Tea/Thunder Roads featured bike events occurred in June at First Turn Steakhouse in Port Orange. We featured their bike night which is every Tuesday. If you haven't been to First Turn you are missing out! Their Redneck Salad and Firecracker Shrimp are 2 of my favorites to eat anywhere.
Micah loves their Sizzlin' Steak, but he too is hooked on their seafood! Add to the great food, the huge outdoor deck and the live music there just isn't a better spot for a Bike Night.
The Twisted Tea girls were helping the crowd get a bit Twisted and gave out samples of Twisted Tea and merchandise. Leo helped me give away Thunder Roads and Twisted Tea shirts, coozies and hats to those who rode in for the event. All the raffle tickets were put back in the hat and will be added to the tickets for the next 4 events for the $500 cash to be given away at the Twisted Tea Hot Thunder Bikini Contest during Biketoberfest.
The next event is July 29th at the White Eagle's Ol School Biker Bash, but by the time you may be reading this it may have already happened and then the next would be the August 15th event at Boot Hill Saloon. Remember if you attend all 5 events it gives you 5 chances to win the $500. No purchase is necessary so join us at our next event!
[autoviewer id="196" width="600" height="600" ]