By Rich Malfitano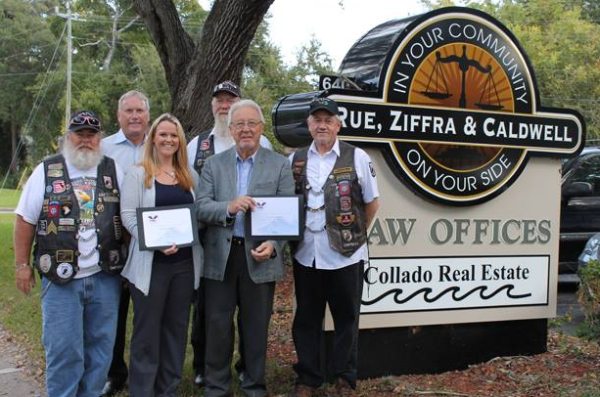 Giving is something you do without the expectation of receiving something in return. It seems the more you do for others the more you want to do. We know that when you give; those you touch are very appreciative and that seems to be a good enough reason to continue giving and helping others. Sometimes kindness and generosity goes way beyond the practice of good citizenship. I want to share with you two stories of Giving. On November 6th 2014, Rolling Thunder Florida Chapter 8, certifying officials for the Presidents Volunteer Service Award under the authority of the President's Council on Service and Civic Participation, presented awards to: Jessica Eckelbarger and the law firm of Rue, Ziffra and Caldwell.
Jessica, a 2005 graduate of Palm Beach Atlantic University, earned her degree in Business Marketing. She enjoys serving our community and is truly dedicated to helping others. Jessica served in the Junior League of Daytona Beach from 2012-2014 and served as the chairperson for the board with the Children's Home Society. She volunteers her personal time supporting and organizing many local charity events including those events sponsored by Rue, Ziffra and Caldwell. Jessica was awarded the Presidents Volunteer Service Award (Silver Level) for Service to Community and Nation.
Mr. John Rue has built a highly respected law firm here in Volusia County. In his more than three decades in practice, he always made sure to give back to the community. Now Rue, Ziffra & Caldwell – John Rue, Alan Ziffra and Thomas Caldwell continue to extend that generosity and spirit of giving. Whether it's the Veterans Farm, Mardi Gras – Fat Tuesday, Relay for Life, Port Orange Family Days, Kids in the Kitchen, Puttin on the Ritz, Gratitude America, Golf for the Kids, Jazz festivals, Red Hat Luncheons, Rides for the kids, fishing tournaments, supporting the veterans Stand-Downs, and the Veterans Assistance Collation, RT Fl-8 and the list goes on and on. They have sponsored over 50 fundraising events between 2013 and 2014. R, Z & C and their team (staff) are always there, wherever and whenever the need. For their 30 years plus of giving, to Community and nation, Rue, Ziffra & Caldwell was awarded the Presidents Volunteer "Group" Service Award (Lifetime Achievement level).
It is with the deepest respect that we congratulate Jessica and Rue, Ziffra and Caldwell and their staff for all they do for others within and beyond our community.