By Jeani G.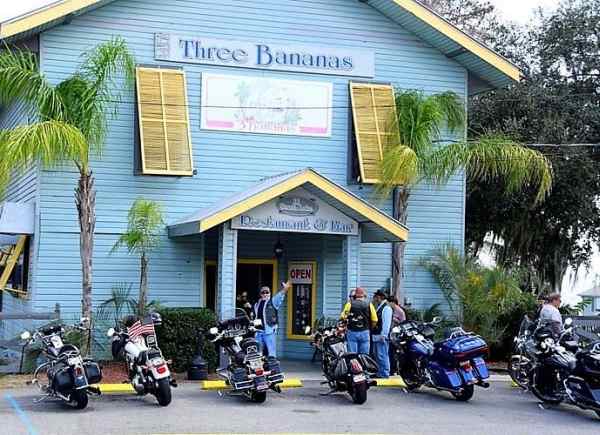 DeLand lost a beloved friend and avid biker earlier this year. Glenn Lane bravely served his country in the US army in Vietnam and Germany. He was an accomplished engineer and retired from Sparton Electronics. Glenn was well known for his cheerful disposition and was always quick to offer a smile and a helping hand to friends and strangers alike.
On Glenn's birthday, January 22nd, family and friends retraced the route of the last motorcycle ride he took earlier that month. Laurie and Dan Bowden organized a wonderful memorial run and on what started out as a blustery overcast day, Glenn smiled down from Heaven with sunshine on the myriad of bikes and cars riding together in his honor. Fabulous photos of the day's journey were taken by Susie Macon.
The ride started with breakfast supplied by OB's Restaurant & Lounge in DeLand; headed for Three Bananas in Crescent City, then on to Shrimps R Us and More in Welaka, where the proprietor and staff treated us to delicious shrimp and an array of snacks and beverages. Next, we rode to Renegades by the River in Crescent City, then headed back to DeLand, stopping at the Brass Rail and ending the day at OB's with a wonderful barbeque buffet, live music by Joe Santana's Kingfish and lots of reminiscing among family and friends where the most common comments were "Glenn was the first person I met when I moved to DeLand" and "He always greeted you with a smile and handshake or kiss".
We love you Glenn and we will miss you … Ride on and keep smiling!