By Lulu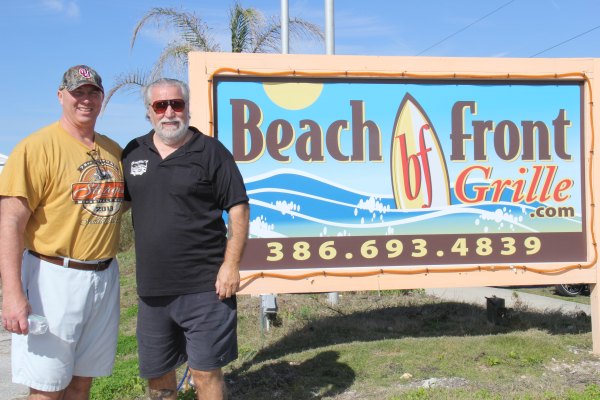 A new kid is on the block!!! And doing one heck of a job filling up a beach front neighborhood bar everyday! The food includes great burgers, pizza, homemade soups wraps, wings and deli sandwiches. The bar has been remodeled to include a large bar that faces the ocean with one hell of a view. Lots of large screen TVs makes it the perfect place for NASCAR or sports watching! An outside deck with tables and umbrellas gives you a place for outside drinking or dining.
Happy hour is 3-6 pm weekdays and $2 beer beach side is a great deal. During the grand opening everyone was dancing the night away to Capt. Nick. There was standing room only and I think the owners are thrilled that their new enterprise is so well received by the locals. The owners, Jaime and Butch, seem to really enjoy meeting everyone and Butch rides so this will be a biker friendly place!!
I am tending bar for my friends here on Mondays 11a-6p so come say hello your next ride down A1A. It is south of Flagler Pier and north of the Flagler Beach water tower on A1A, a really great ride on two wheels!!