Submitted by Christine Caraway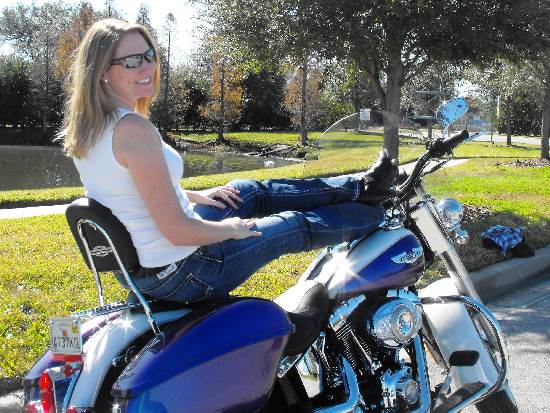 My adventure began a little over two years ago when I walked into Jim's Harley-Davidson to learn more about getting my endorsement. Everyone there was so very friendly and supportive that before I knew it, I was attending a Garage Party and enrolled in a Rider's Edge class. From there, I was hooked and so began my search…what kind of bike did I want, a cruiser, a sport bike, and what could I afford? And then along came Domino — a Black Ice & White Ice Softail Deluxe — just in for the 2010 model year getting assigned to the Rentals department. It was love at first sight! I ended up renting her every month until I had saved up enough money and she had enough miles to be released. In March of 2010 she became mine and what's a girl to do, but add a little more sparkle — 4,300 (and counting) of Swarovski crystal sparkle!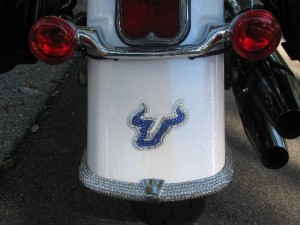 We've had so many great times together and met so many fascinating and wonderful people along the way. This past November we hit a milestone of 10,000 miles! I wish to thank everyone that voted, Thunder Roads Magazine Florida, and some very important people that guided/mentored me along the way…Lori and Cliff Dobson, Charles Norwood, Debbie and Bill Speicher, and Dana Cronin Jr. (my "right-turn" man).
When asked why I ride, it's as simple as one word: extraordinary; because whether it be for a fun day out with family/friends, the Ladies, or to support our local charitable organizations, that's exactly how it feels EVERY time I get out on the road! I hope to see you all out there and at some of my favorite charity events this spring (H-D MDA Women's Ride and 6th Annual B.R.A. Run). Be sure to stop on over and say Hi!