By Phoenix and Metric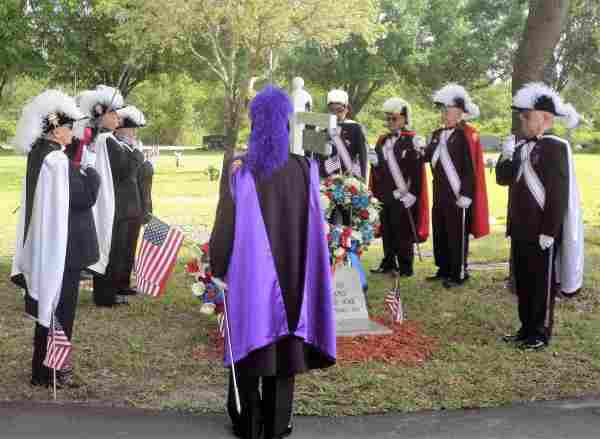 As Veterans, very few days are more important than "Memorial Day". For most Americans "Memorial Day" is the official start of summer filled with cookouts, a day at the beach or family outings. For most veteran, it is a day of remembrance. Memorial Day is not a day for the living. It is a day to remember those who gave the ultimate sacrifice for our freedoms here in America. It is a day to remember a "Brother" lost in a desert of the Mid-East, a "Father" lost in the jungles of Vietnam, a "Cousin" in Korea, a "Uncle" from WWII, a "Grandfather" from WWI and "ALL" the other family members we have lost in service to America. They are "NOT" here with us today so we "MUST" take a moment to remember them.
Each year we participate in several events around the county, this year we expanded the ceremonies to two counties. To start the day off right we had breakfast with our brothers at Bob Evans. Our first event was to participate in the county wide ceremony held at the Lakeview Memorial Gardens. Here we had a moment of silence with a "Son" who lost his life in a horrible traffic accident after returning home from the desert. Next, we headed off to honor the Military Order of the Purple Heart Chapter 601 at Veteran's Beach in Sebring. Our next stop was off to Avon Park where we honored one of our own, Col. Marshall "Ed" Jordan is Bulldog's "Dad". Our newest ceremony was in Arcadia. "Uncle Wayne" Dill was a WWII veteran who built his own memorial to Veterans on his property and passed away shortly after completing the memorial. He named it the "FORGET ME NOT" Memorial. The "Forget Me Not" Memorial is open to the public and is located on Hwy. 70 west of Arcadia, just behind the US Forestry station. Feel free to stop by and pay tribute to a fellow Veteran. For more information on the "FORGET ME NOT" Memorial contact Keith "TRIP" Gable at (863) 244-5167.