By Deborah Speicher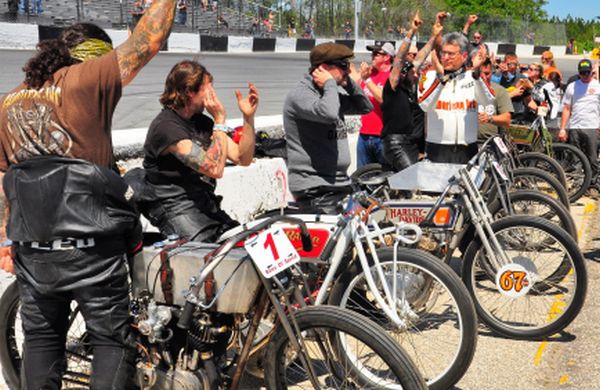 One of the highlights of Daytona Bike Week 2017 was the Sons of Speed Vintage Motorcycle Race held on March 18 at New Smyrna Speedway. The brainchild behind this event was none other than renowned bike builder, Billy Lane. In addition to organizing this event, Billy personally worked on several of the chassis for the pre-1925 motorcycles. At the practice races the day before, I saw Billy, along with his brother Warren, riding, wrenching, pushing bikes and otherwise moving nonstop around the track and pit stop area.
On Friday, there were sixteen motorcycles which turned into twelve on the day of the race due to mechanical issues. This type of racing involving old motorcycles with skinny tires at high speeds can be dangerous and, thankfully, there was only one minor incident on practice day. Racer Rhett Rotten ("Wall of Death" fame) had both tires simultaneously go out on him and he went down. However, he was back the next day to race. His bike was appropriately named "Death Trap"!
There were other motorcycle celebrities in the race – Paul Cox ("Indian Larry Legacy"), Buzz Kanter ("American Iron Magazine"), Josh Owens ("Moonshiners" television show) and Rick Petko ("American Chopper" television show).
First place was won by Brittney Olsen, second place by Matt Harris and third place by Shelly Rossmeyer-Pepe (GM of Destination Daytona).  With two women taking top awards in this race, looks like they may have to rename this "Sons and Daughters of Speed" for future events! Kudos to Billy Lane — I can't wait to catch another one of these events at future motorcycle rallies.