By Amy Poole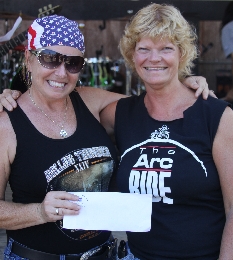 The ARC of Volusia is a wonderful facility that helps individuals with developmental disabilities that strive for independence and self-sufficiency. ARC offers a wide range of opportunities for these individuals, so they have a sense of purpose in their daily activities. ARC helps those in need with their education, skills, everyday living and many other programs. I met some of the staff from ARC the day of the Ride and saw how "delighted they are to help these individuals with things that are easy for us, but are extremely important to those who need the help." ARC has special folks that take part in this daily task. They hold several events a year for fundraising and one of those was the most recent…The ARC Ride.
Registration began in the morning at the Iron Horse Saloon with clear skies and the rumble of 79 bikes riding for a great cause. Stops taking part in the ride were Cabbage Patch, OB's, Pork Chop's Alibi Bar (thank you Bobby & Dawn for the snacks!), and White Eagle. Back at the Horse was Big Engine jamming and Sabrett the Hot Dog Man was dishing out dogs and kielbasa for our complimentary lunch. The 50/50 winner donated back the monies to ARC and it was our very own Beth, editor of Thunder Roads, who had the best hand.
BIG thanks goes out to the Iron Horse Saloon for their tremendous help and support and to ALL the sponsors and donations…bringing in $1760.00! If you would like more info you can visit their website at www.arcvolusia.org.
[autoviewer id="197" width="600" height="600" ]