By Ron Cox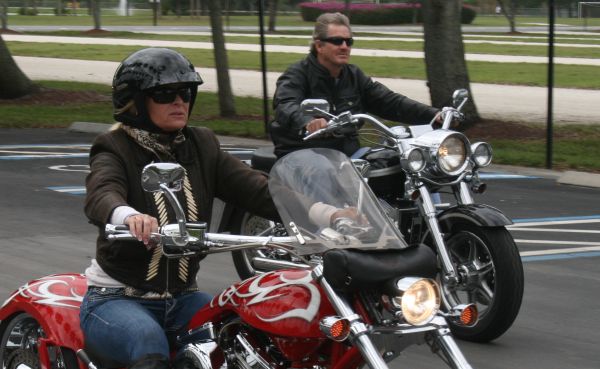 In an effort to increase participation and funds, the local Chapter of the Muscular Dystrophy Association and Harley-Davidson of Ft. Myers and Naples combined a Muscle Run with a Muscle Walk on January 19th. The event gave participants the choice of walking or riding a motorcycle.
About 65 motorcycles and 100 riders/passengers met at H-D Ft. Myers or H-D Naples to register and draw their first letter. A new and interesting wrinkle to the old poker run concept introduced a Scrabble Run. Instead of drawing a playing card riders drew a tile with a letter and point value on it. At the end of the run riders made up words with the tiles they drew at stops that included Hammond Stadium and The Sandy Parrot. The Boulevard Tavern served as the last stop where an enlarged Scrabble Board was standing waiting for the letters to be attached.
SWFL HOG members made up more than half of the total riders and that was evidenced by the major prize winners. Bill Geary won the Scrabble Run and the $100 gift card donated by H-DFM with WOMANIZE as his word equaling 60 points. George Corrado won the $90 50/50 prize but the real winner was the Muscular Dystrophy Association which collected $2,800 for the day from the run. The walk added to the total take for the day.
This was the 10th Annual Jim Perno event, named for the late Assistant Sales Manager at H-DFM who was killed in a motorcycle accident on his way home from work in 2003. It was the Perno family's wish to keep his name alive and continue his deep commitment to MDA by teaming up with H-D Ft.Myers in sponsoring this Scrabble Run.