By Lulu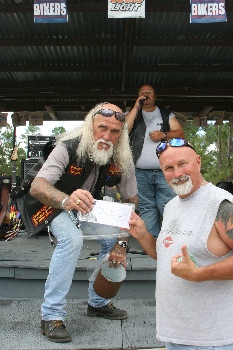 A brand new motorcycle club in the Palm Coast area is the Knights of Inferno comprised of bikers affiliated with firefighting. And, as we all are aware, firefighters are heroes! But every once in awhile, a hero needs a "white knight" to lend a helping hand, so when a 23 month old child of a Palm Coast firefighter, Cooper Ascone, needed some financial assistance due to heart problems requiring multiple open heart surgeries, the Knights of Inferno didn't hesitate to tackle the job of throwing together a run.
The first date was a total wash out due to heavy rains. They rescheduled and had a decent turn out for a rescheduled event with over 75 bikes and raised about $2500. Joe reported that Cooper underwent valve surgery and is back home in Palm Coast if everything heals well this should hold him over until about the age of 10.
It always surprises me when I hear of groups such as the Knights of Inferno who have worked for our community, still continuing to give to the community even in their spare time. Special thanks to the Iron Horse Saloon, BFFAR, Lazy Pelican and Ice House for participating in this run. And to the White Eagle for the meal and live music!!!!
Joe Vece, the president of Knights of Inferno has always been a community leader and his club is heading up the 911 Memorial Ride on Sunday, September 9th (see the ad in this issue). This is a free police escorted ride that gives all who attend a chance to show honor and respect for the lives lost on September 11th and to celebrate those who live their life in harm's way protecting us. Please join us on the run and make this the biggest one to date!