By Lulu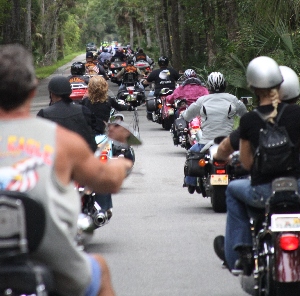 Although the eleventh Memorial Ride in Flagler County started with a heavy downpour of tears from heaven, over 400 bikes still safely made the 60 mile ride to show respect and honor for the lives lost on 9/11. The rain and cloud cover actually made this event, to some degree, more pleasurable as it wasn't nearly as hot as years past. All of us that attended were treated to a moving memorial service that allowed us to remind all that we must never forget!
For me personally it is just a day of television horror as I did not personally know anyone who was directly affected and I simply sat glued to the television in pure disbelief eleven years ago. But for those families who lost loved ones I can't begin to imagine how permanently this time of year has changed for them. For them, what was the beginning of the change of season in New York, Pennsylvania and DC it is now forever a time of sadness and loss. What use to be a time to ready for football, homework, shopping for winter clothes; it is now a time to visit graves, to cry and to wonder what would life have been if only that day had been a normal September morning.
A special thanks must be given to the wonderful team at Rue & Ziffra, PA for their dedication to making this a hugely successful memorial. Also thanks to the White Eagle Lounge in Korona for once again feeding the masses and I have been informed by many that the chicken was delicious! Joe Vece, President of the Knights of Inferno, says without the great men and women at the Flagler County Government Services, FCSO Motor Squad and the other agency's that helped out this event could not happen.
The newly formed Knights of the Inferno in Palm Coast managed to "dot the I's and cross the T's" on this event and certainly put on a well organized ride. Please put this event on your rides to attend each year, ride with us and remember!