By Ron Cox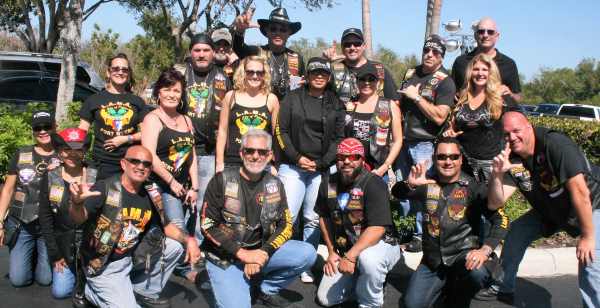 Between 400 and 500 of their closest friends converged on Naples Harley-Davidson on February 25th to help the Naples Chapter of LAMA (Latin American Motorcycle Association) celebrate its 3rd Anniversary.
The 80' tent covered the numerous tables and chairs for the riders and their guests as they consumed a choice of chicken or pork, rice and beans and other Latin favorites. Unlimited soft drinks were on hand and adult beverages were available for purchase. Live entertainment was provided by the Bonita Springs based band Rockin' Horse and they did just that, rockin' the house. Vendors were also on hand, offering everything from native American jewelry to Argentinian empanadas.
Naples had a table full of trophies, too many to list 'em all here so let's just say that Orlando rode off with the Best Rep Chapter while Southern Atlanta scored the Longest Distance and Port St. Lucie was the first to arrive.
LAMA was founded in 1977 in Chicago. Since its inception, LAMA was intended to be a Moto-Touring Club with truly democratic ideas. In 1995 a Chapter was formed in Miami and in 1996 LAMA became a National Association when the first national president was elected. In 1999, LAMA became an International Association when Chapters were formed in Puerto Rico, Mexico and Cuba. Today the number of Chapters has grown to more than 160 worldwide spanning the Americas, Asia, Europe and Australia. Florida boasts more than 20 Chapters.