By Rich Malfitano, NPA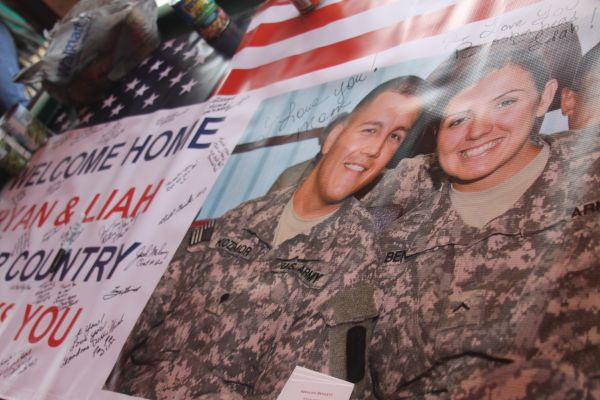 Ryan and Liah receive a hero's welcome after returning home from serving our country in Kuwait. On Nov 24th, on a brisk and very windy Sunday morning nearly 300 bikers gathered for a Heroes Escort Ride. It began at Indian-Victory of Daytona and headed up to Flagler Beach where Liah and Ryan were shocked to see hundreds lining the streets with Flags waving, as they were traveling home by way of A1A.
As they approached, Ryan's mom Bonnie and sister Niki, stopped their car, explaining the flag line was for them and after some hugs and kisses the motorcycle escort led them to "Saints and Sinners" at Destination Daytona. Everyone joined in a welcome home celebration. Ryan joined the Army in 2010 and presently serves as a Medic. He has recently reenlisted to further his Military career and is anxious to get to Ft. Rucker Alabama where he will be training as a Flight Medic with a Black Hawk Squadron. Liah a native of Ohio served with the Air Defense Battalion in Kuwait. She will be heading to Ft. Sill Oklahoma to finish out her tour.
It was no coincidence that both Ryan and Liah arrived home together. They had a plan, and like good soldiers they were successful in its execution. On Nov. 15 Liah and Ryan were married. Not only did we celebrate their homecoming, but their marriage as well. Congratulations Liah and Ryan. This truly became a "Victory" Celebration. Rolling Thunder Fl-8 led the escort and was honored to work with Bonnie Marshall, Ryan's "Blue Star MOM" (also office manager for Indian-Victory of Daytona), to make this special event a success and a surprise.
We would also like to thank Enzo Almeida General Manager of Indian-Victory for his generosity and support. Bill and Dick did a great job behind the scenes with the coordination and logistics. Thanks to all RT Fl-8 members that helped make this event successful. Proceeds from the event were donated to RTFL-8 to help veterans and support our programs. All foods received at the event will be used for the Homeless Veterans Holiday Dinner sponsored by BFFAR Post 1.