By Lulu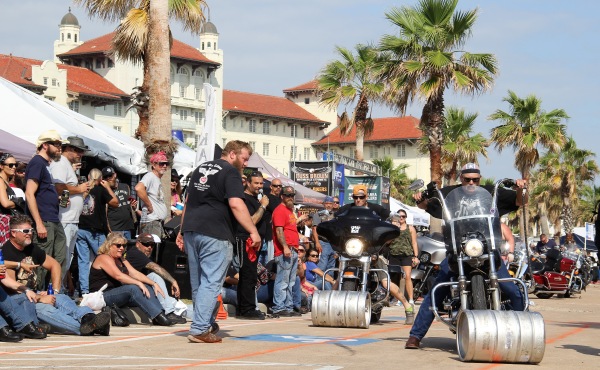 As far as 3-day rallies go the Lone Star Rally in Galveston, Texas is by far one of the largest in attendance and an incredible event. The music line up on the two stages is awesome. This year it included Miss Intent, Bobby Friss, David Allen Coe, Highway to Hell, Vanilla Ice, Tom Kiefer and even Sawyer Brown to name a few. From noon to past midnight the Budweiser stage on the Strand and the Beach Central Park stage on the Seawall side of the island are constantly rocking. Block after block of vendors can provide any bike related item you might need. Sponsors which included GEIKO, Houston area Chevy dealers, Budweiser, AMSOIL, Russ Brown Motorcycle Attorneys, BAYER and MISFIT Industries had major displays. With Russ Brown even giving a 2017 Victory Octane away. Bayer was handing out a "hangover kit" which included aspirin and Aleve to those with aches and pains from the ride, headaches from over imbibing and Alka-Seltzer Chewables for those with a little belly ache. They even had a Dr. Scholl's machine to test your feet for inserts to make the miles of vendor walking much easier on your feet! Not to forget they had sunscreen by Coppertone to protect those pretty biker faces from ill effects of too much sun. All for FREE! Make sure you remember that when you need to make a trip to the store for purchases of such items…they support the motorcycle community at every major event and WE should support them!
As if the bands and endless vendors wasn't enough of a reason to make the ride to Texas, they also had an amazing car show, a Perewitz paint show, a ride in bike show, Chris and Heather from Cycle Source did a VIP bike show with the builders on site and bike games during the day. Of course, there is also the Miss Lone Star Rally contest which always has amazing bodies and faces on stage.
This was my second time at Lone Star and part of what sets this one apart is the Mardi Gras atmosphere with the old architectural structures and balconies, the water front location and the backdrop of the rides on Pleasure Pier. I was worried that the hurricane that caused so much devastation in nearby Houston that attendance would be down…but it was packed which was a shot in the arm for a suffering Texas economy. Thank you to all the bikers who made the annual trek and for those of you who haven't visited Texas get on your steel horse and make the ride next November.