By Ron Cox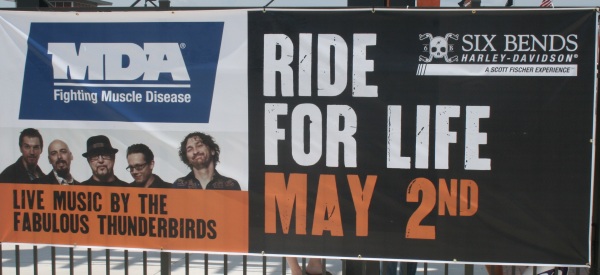 The Muscular Dystrophy Association (MDA) in concert with the Florida Harley-Davidson Dealers Association (FHDDA) hosted its Inaugural "Ride for Life" on Saturday, May 2nd in Ft. Myers.
According to MDA's Executive Director Erin Randall Ride For Life (RFL) has been operating successfully in Pennsylvania for 28 years. When H-D Corporate suggested it be tried in Florida, Six Bends H-D stepped up and offered its new 16.5 acre property to hold the event. HOG Chapter riders and others came from all over the state. Chapter rockers seen included Miami, Naples, Sarasota, Jacksonville, St. Augustine and Brandon. In total more than 500 riders and passengers participated, raising $54,221 for MDA. SWFL HOG Chapter member Fred O'Hara won the raffle for a 2015 H-D Street Glide Special. Arian Hidalgo from Miami won the $1,000 first prize for "Best Bagger."
Top Rocker Field served as the central venue including registration, food and refreshment stands, vendor booths, the silent auction tent, best bagger judging and the main stage. The band Live Wire kept things rockin' most of the afternoon until the "tough enuff" Fabulous Thunderbirds took the stage and closed the day's activities.
MDA is the world's largest nonprofit health agency dedicated to finding treatments and cures for muscular dystrophy, amyotrophic lateral sclerosis (ALS) and other neuromuscular diseases.
HDDA is comprised of 33 authorized dealerships in Florida.
All the money raised by Ride for Life Florida stays in Florida to help local individuals and their families living with any of the 43 different muscle diseases, including ALS, that are covered under MDA's program.
Given the success of this event, look for the 2nd Annual Ride For Life to benefit MDA sometime next year.