by Katie Donzanti & Sara Brady
Photo Tina Branan & Nickolas Wolf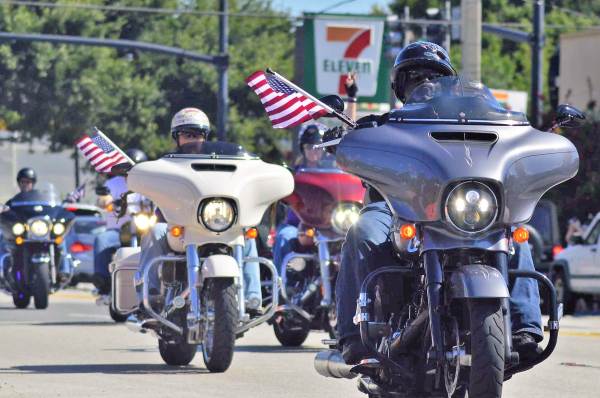 Orlando-Harley Davidson's "Hogs for Hope" ride more than doubled its fundraising goals last week when more than 500 motorcycle riders drove past the Pulse Nightclub to show support for the victims of the June 12 tragedy and raise money for the OneOrlando.org fund.
The ride raised $45,500 more than double its original $20,000 goal. Accompanied on Sunday July 24th by Orlando Police, more than 500 riders came together and rode through downtown Orlando, stopping briefly in front of the Pulse Nightclub, the site of the June 12 tragedy that left 49 people dead and more than 50 others wounded.
"I am enormously proud of Orlando Harley-Davidson and our motorcycling community for coming together to help the Pulse attack victims and their families," said Anne Deli, owner of Orlando Harley-Davidson and who organized the ride. "As we rode past Pulse and the Honor Guard we had posted there, it was an incredibly emotional moment. The victims and their families have so many needs due to the injuries or trauma caused by the accident. The amount raised was more than double our expectation which shows the love and unity of so many to help and support their long term needs."
The parade ride departed from Camping World Stadium (formerly the Citrus Bowl) and traveled to the Orlando Harley-Davidson Historic Factory Dealership at 3770 37th St. Orlando. The parade was led by 49 flag bearers representing each of the victims, and escorted by the Orlando Police Department and its newly introduced "Orlando United" SUV Patrol Car. Riders rolled through downtown Orlando passing the Pulse Night Club where an American Orlando H-D's HOGS FOR HOPE Ride Greatly Surpasses Fundraising Goals for ONEORLANDO Fund by Katie Donzanti & Sara Brady photos Tina Branan & Nickolas Wolf Legion Honor Guard stood at attention to honor the victims and their families.
The post-ride event included remarks from honored guests, City of Orlando Commissioner Patty Sheehan and Commissioner Regina Hill, both who participated in the parade. Also riding in the parade was Orlando Police Department's Deputy Chief Orlando Rolon and Lt. Jim Young, Orlando Police's newly appointed LGBT Community Liaison. Local band, Three Forks Road, entertained guests with an afternoon of music while they enjoyed food, drinks, a silent auction of vendor donated product in an atmosphere that was uniquely Orlando Harley-Davidson. Rounding out the afternoon was a series of dance showcases by local performers who have performed at PULSE, previously.
In addition to event proceeds including ticket sales, food contributions and silent auction, Orlando Harley-Davidson contributed $500 from Touring Motorcycle sales during the week of 7/17-7/25, then expanded to all motorcycles for the event, to the OneOrlando Fund