By Phoenix and Metric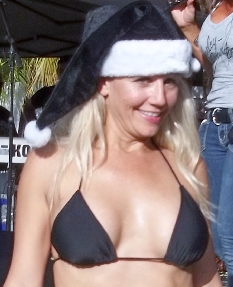 When it comes to partying, no one does it better than the Captain and Crew at Treasure Coast Harley Davidson in Stuart. This is the second year that Phoenix and I celebrated with the folks from Treasure Coast HD and we had a blast.
The highlight for me was the great music from the 70's with the bands "Crossbones" and "Ramble On" and the tribute to the Great "Led Zepplin". I was having "flashbacks" of a time from long, long ago.
While the music was "Great" the women were even better. Ruby was on hand again this year to brighten up your spirits and boy does she know to how to do that. The entire Crew at Treasure Coast was on hand to satisfy all your motorcycling needs. If you have never been to one of the parties at Treasure Coast you need to make the trip to Stuart and tell them Phoenix and Metric from Thunder Roads Florida sent you.