By Lulu
[like url=http://thunderroadsflorida.com/?p=1621 action=like]
There are all types of "bike enthusiasts" and HOG owners are in a league of their own. Hog Owner Groups have state conventions each year, and if you own a Harley and aren't a HOG member you may not have attended one of these rallies before and therefore don't know what you are missing. This year Florida's convention is in Destin! That area is my ol' stompin' grounds and I don't believe there are prettier beaches anywhere! The convention requires pre-registration and the cut off is September 1st. for the October event. One of the reasons for putting this on your event calendar is their charity they give to; the Bob Hope Village for Veterans is Florida's Convention charity. Check out the ad for this years' convention on page 23.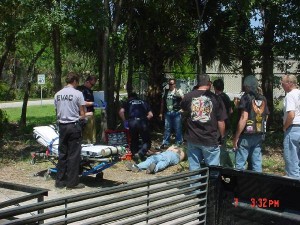 Last month I mentioned the importance of hydrating while riding in Florida's hot summer months. I received this photo and note from Lee after that article. Picture taken during event listed in Thunder Roads, Run for the Cure from Crescent City May 7. Rider was treated at the scene and recovered. Bike was loaded on chase trailer and rider rode back to Crescent City in a truck. I hope it drives home the point that on a bike we are not only exposed to the ambient temperature, but we have the added hazards of the heat coming off the road and our engines. A danger sign is when you notice you have stopped perspiring by then you are already headed for trouble. Don't let a great, although hot, afternoon on your bike end up with a 4 wheeled trip by ambulance to the ER!
Drink water at every stop along your way, spend some time in the shade and don't forget your sunscreen!