By Lulu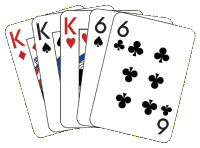 Poker Runs…we all know what they are and have ridden on probably hundreds. No telling how much money we have pulled out of our pockets to spend our weekends riding with friends. I have seen unemployed bikers who I know needed that $10-$15 bucks, still show up to support others in need. What use to be runs for downed bikers now is often for general causes or children that are ill. Whatever the cause we saddle up and ride…in every county, every weekend bikers are riding to help.
My best friend Sherry is the poker run expert! She has been organizing runs and events for years now, and knows what works and what doesn't. But there are a few things I have witnessed over the past 6 years of poker run participating. First, plan the event far enough in advance to schedule it on calendar of events in all the different biker magazines, post it on BON, make colored flyers. Check those calendars to make sure you aren't scheduling it on the same day as another big run. Sherry does half page colored flyers to cut cost and because it fits better in pockets. Make posters and have the participating bars put them up. If you can get the bars to kick in some cash it can cover the cost of ads or flyers, after all you will be bringing people in to their bars. But if you are asking them to donate cash, then their bar's name should appear in all ads and on flyers for them to be able to write it off as ad cost, since most are not able to write off donations. Make sure the bars know you are coming and have adequate staff to handle your participants and call the next stops with a head count of how many have signed up. And schedule rain dates!
Many bars have free food on certain days anyway and live music, book your event around that to save the cost of food. Particularly during these tough economic times you are better having more riders at $5 or $10 than trying to hit riders up for $15-$20 a hand, and you can get away with less if the food is being provided at the last stop for free.
If you are wanting the group to ride together it should be a police escort and then most police escorts do not allow stops along the way. They have a starting and ending point. They cannot escort folks that are stopping to drink and then drive, which is understandable. On this subject, please don't block intersections for the group to fly through. It is dangerous and illegal. Even worse I was on a ride in south Florida and a group of over 100 didn't have a police escort for part of the ride and didn't bother blocking the intersections, they simply blew through the lights and didn't stop. I was scared to death!!
I love the prize boards instead of taking a long time calling out numbers during the after party. We all love to win something, but I would rather listen to the band than an hour of calling out numbers! Silent auctions, live auctions and 50/50's are also a great way to raise extra cash, but if someone doesn't give the money back…please, don't embarrass them. I witnessed a girl who won $400 cash generously give back $200, and I overheard her tell a friend, "Thank goodness I wasn't sure how I would pay my power bill!" The emcee started harassing her about giving the other $200 back and the crowd was ready to throw him off the stage by the end of it!
Please thank the bars, sponsors and riders. We all love to be appreciated. If it is a run that we cover, send a letter to us and we will post it on the web and in the magazine to let people know you appreciate them. If you have good ideas or things that bother you about runs write it and let me know.
Ride on a run for someone you don't even know, drink plenty of water and don't forget your sunscreen…