By Lulu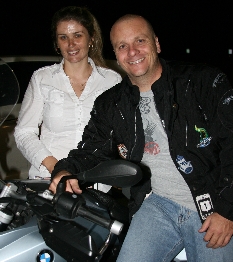 One thing I have always admired about our brother bikers is that they do not leave someone stranded on the road. If they see a bike in trouble they stop. We were riding home on 95 from Dania Beach this week. It got dark and cold so we pulled into a convenience store near Melbourne to put on our chaps and have a hot coffee.
As we were walking out to our bike we saw a guy with a BMW pushing it into the gas station. Micah said to the guy "This can't be good". His name was Alamo and his girlfriend who was following in an SUV was named Cheyenne. (Believe it or not those names were their real names, given to them by their parents and they weren't even from North America or related. They are both from Brazil.)
Anyway, back to the bike part of the story. They had just purchased the bike in Daytona from BMW and Alamo was trying to ride it home to Miami. This was the second time their new ride had crapped out on the highway. The first time they were only 50 miles from Daytona and BMW picked them up, returned them to the dealership and gave them a new battery, thinking that was the culprit.
This time it was much later, miles farther and the dealership was closed and…it obviously wasn't the battery since it was losing power again and having to be pushed. Micah, being the handyman, offered his assistance and tools, but to no avail. Luckily, I remembered a bike shop that was near who advertises with us. It was late and a Saturday night, but their ad claimed 24/7 emergency towing and at this point we just didn't want to leave the bike at a convenience store.
Cheyenne and Alamo wanted to drive the SUV to Miami and return the next day to deal with the problem motorcycle. Luckily, GT Motorcycles in Pineda not only answered the phone, they came to our aid within 10 minutes!!! Gary and Mel put the BMW on a trailer, Cheyenne and Alamo took off in their SUV and we saddled up for the last leg of our ride. I really can't say enough about GT Motorcycles. When I asked him, "What are you doing answering the phone this late on a Saturday?" he said, "We are at the shop working, all hours!" They are busy and I know why. They believe in old time customer service!!!
Gary called me the next day to say he checked into the problem with the bike and reported the problem to Alamo so that BMW would have to make it right, which was really over and above the call of duty. If you are anywhere near Pineda and need your motorcycle checked out call 321-255-BIKE!
It would have been easy to just jump on our bike and not get delayed on our way home that night, but that just isn't what bikers do. I can't tell you how many times over the miles on the highways that people I have been riding with have needed help and miraculously someone on a bike shows up and helps make things right. It was nice to be able to give back for a change!