By Lulu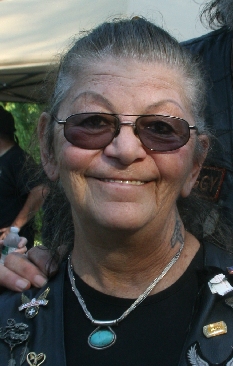 This year I lost a dear friend, one that I have experienced some pretty magnificent moments on the highway with. Sharon rode next to me in the Badlands…in LA…on the stretch of bridges to the Keys…bar hopping in Daytona. And quite by accident, her life briefly collided with mine and I am thankful for each adventure I had with her. But in loving someone there is the missing them that hurts. I know all of us have had that deep ache of missing someone terribly, and I must remind myself it is only because their being here was so magical that we yearn for them.
Another free spirit passed recently, Gloria Disher Acierno, whose Celebration of Life will be at BFFAR on November 10th at 3pm in Holly Hill. Many of you know Froggy (Steve) and Gloria as they have always ridden in charity events for fellow bikers, and in fact, when Bull (the original owner of Thunder Roads Florida) passed away she made black ribbons to wear for everyone on his run. I barely knew her at the time, but they showed so much compassion and love by being there. I know Steve is feeling that burden of missing someone so much it hurts.
As November is the month to honor our Veterans, I must ask all of you to remember the Veterans whose sacrifices, of time away from their families and often personal harm, have given us the freedoms we often take for granted. Ride on the Salute to Veteran's ride in Leesburg on November 10th out of Gator Harley, join us at OB's for the Veteran's Day Celebration presented by Rolling Thunder Chapter 8, or find an event in your area to honor our veterans!!!!
Say thank you to our veterans, say a prayer for a lost loved one and don't forget your sunscreen!