By Lulu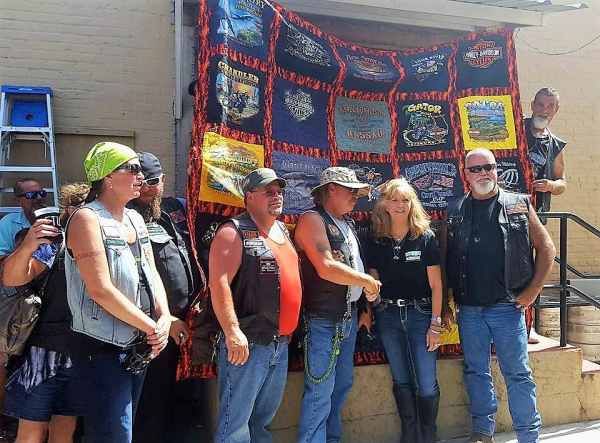 Wonderful people can do extraordinary things. And so was the case of a bunch of awesome folk in Eustis. When a friend named James "Bo" Harvey was diagnosed with leukemia, a plan was hatched to raise some much-needed money to help offset the expenses. A blood drive raised 27 pints of blood in Bo's name. Pug's Pub enticed patrons and friends to give of their blood with "A Pint for A Pint", in other words a free pint of draft beer. They sold pulled pork sandwiches prepared with love by Pork Chop for a $5 donation for the cause. Live music by The Fender Benders rocked the house. And the Pissin' Frogs pulled off another successful endeavor to help someone in need.
But prior to the benefit held in June. A wonderful woman who was given the name "Stitches" by the group, made a quilt out of 25 Harley t-shirts donated by the Frog members. It was raffled off over a month or more. I think the final raised on just the quilt was $5000!!! "Stitch" spent about two weeks making the masterpiece. For those of you who may not know "Stitch" she has been in the embroidery/alteration/quilting business for thirty years. She is the owner of Sew What? The Sewing Room at 47 Wafford St. in Umatilla and her real name is Norlina Smith. Her shop is open Monday, Wednesday, Thursday and Friday from 9a-5p. Or to schedule work her number is 352-669-1608. Another charity she shares her talent with is Quilts of Valor, she has made 27 quilts for veterans. The quilt for Bo was won by Linda at Frank's Place in Leesburg.
On a very sad note, Bo passed on July 7th and when they tried to present the family with the rest of the funds raised, his sons refused and said to "Play it Forward"! I wasn't lucky enough to know Bo or his children, but seems like he must have been one hell of a guy to raise generous sons and to have had friends that cared so much for him.
A special thank you to Patty owner of Pug's, all the Pissin' Frogs, Stitch, Joker and everyone that took their time, energy and money to make someone's life just a bit easier in a time of struggle!