By Dave Twitchell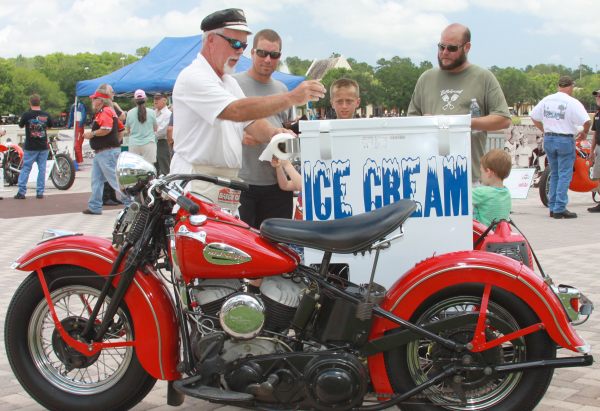 We are never at a loss for events this time of year in Florida. However, after a work week that leaves its mark on the Mind & Body, an early Saturday ride may be easier considered than done. Organized rides with scheduled times and briefings were not on my radar, just give me flat asphalt and two huge cylinders firing in perfect rhythm was the needed prescription.
When it comes to events within the Cycle community we tend to pick our events with skepticism knowing that some gatherings will be a disappointment. Who or what crowd is going to be there? We ask ourselves those questions because time is limited. Will it be Cruisers, Harleys, Sport bikes, a Poker Run, or custom Chops? In the case of the Ride Into History Concours d'Elegance hosted by the World Golf Village every niche of the Motorcycle legacy was represented which made for an agreeable scene no matter what you ride.
A showing of three-hundred restored and preserved Vintage motorcycles from all corners of the United States assembled in one place for a two day event to benefit exhibition. Pick your flavor and it was there including Milwaukee Hogs and the original Indians beside Ducati joined by Soviet-era models, BMW's galore and every Moto Guzzi wowed the crowd. Kawasaki, the innovator in motorcycle technology, stood beside Honda with their strong line-up of 1970's bikes still running to reinforce their reputation of producing an engine that refuses to quit.
The benefactor for this year was K9's for Warriors. They are a voluntary non-profit organization that links Veterans to rescued service Dogs with a high success rate of rehabilitation for both the Soldier and the Canine. Last year's Ride Into History contributed $40,000 to K9's for Warriors. It may be the struggling Veteran or damaged Dog that was abused and discarded but a new partnership of unconditional servitude repairs wounds that resonates a positive change throughout the Community. Since the beginning of Ride Into History the foundation has donated over $350,000 to various charities.
Instead of aiming the camera at every bike I found it was refreshingly nostalgic to just listen to people from all over our Country tell a short story about a certain Make, Model, and Year of a bike they were now seeing again like a High School reunion. It's a religiously intimate connection we have to our bikes; the ones we ride now and those we racked up the miles on. Which one did our family member have or what color was the hottest thing you remember from a decade past? Many made your Heart thump and like all loves a few were wrecked leaving their marks like distorted tattoos. These are the tales from those days that had to be lived to be understood – the low-speed turns and the high-speed falls that we've experienced because of the freedom to hit the road on two wheels.
www.RidingIntoHistory.org
www.k9sforwarriors.org