By "Kneecap"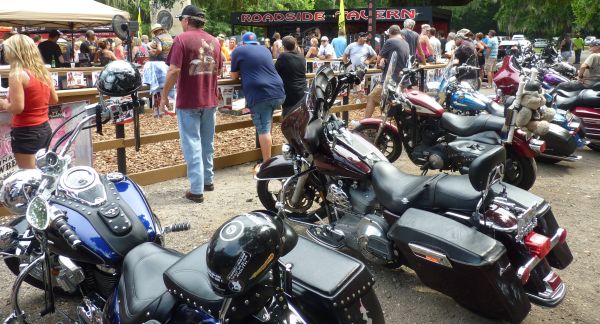 Roadside Tavern Bar and Grill on Nova Road in Port Orange has a history of running tremendous events. The June Crawfish Boil & Music Jam has to go down as one of the best they have ever thrown. The Roadside is perfectly designed for a large party. Up front there is a large air-conditioned lounge and a fully equipped kitchen with great food.
In the back is another large bar, plenty of seating, areas for games, room to dance, and a stage so large it should be called the band shell. I had a poker run to attend in the morning so I didn't get there until about 2pm. When I arrived the place was packed and the people already dancing to the great music of Hayfire. It's been a long time since I've seen such a large crowd in such a partying mood. They were dancing, playing games, singing along with the band and having a brew or two. Frank Scott from the WHOG radio station was there to MC the festivities.
There were free concerts all day. Hayfire was followed by Moccasin Creek, Michael Makepeace, ending with Jezebel's Tattoo. However, the best part was that the proceeds benefited The Veteran's Support Fund.