By LIL JON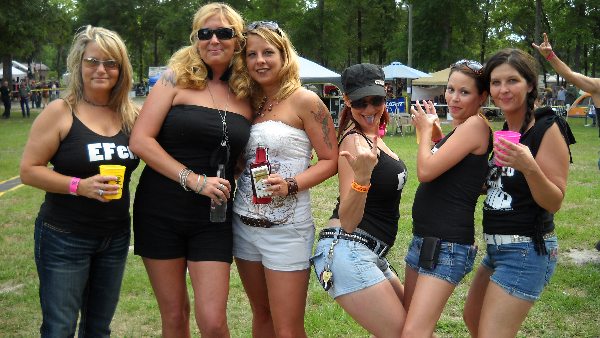 After hearing all about Mitt and Trayvon, I definitely needed a break and Rockin Wheels was just what I needed.
Chris Furst, from Furst Automotive & Cycle, and Gainesville Harley-Davidson put together the Rockin Wheels party at the River Run Campground in Branford, Florida. April 13th -14th Rockin Wheels had their 2nd event at the River Run. They had a 9 band line up starting Friday with Monster, followed by Wisecrackers, Unchained Chaos and finishing up the night with Big Engine.
Saturday morning everyone crawled out of their sleeping bags nursing their hangovers, they got back on their bikes for Ray's Ride which is a ride remembering Ray Lytle, the original owner of Gainesville Harley, and father of Kevin and Paul Lytle, who led the ride to Gainesville Harley. Gainesville Harley had pizza ready for all that participated and then back to the campground we rode for the bike show, a tattoo contest and the burnout contest. The afternoon band line up was Wolfgang, Rebel X, Dark Water Social and finished off with EFEN and GirlzGirlzGirlz. The evening's big event was the Wet-T shirt contest where 17 girls jumped on stage. Some were stock and others were modified, but they all were great! And I think they all had a great time, I know the crowd did. A big surprise for the Wet T contest was a girl with stock parts won. Yep, stock still can win.
Other sponsors were MOS Office Systems, Florida Rocks, and Keens Portable Buildings. Some of the proceeds will be going to Lil & Will, the owners of the campground. Lil was diagnosed with cancer just before the event. And we all wish her the best.
Well got to go now. Everyone ride safe. Remember you should be riding your bike more than a bar stool!!
[autoviewer id="183" width="600" height="600" ]