By Rich Malfitano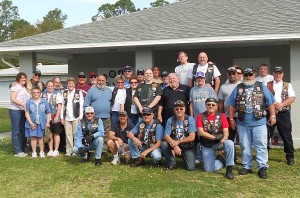 On Monday March 21st, members of Rolling Thunder at Chapter 8 Florida continued their support to American Veterans by escorting a truck carrying bedding mattresses to the Haven Recovery Center in Volusia County. The mattresses were purchased by Chapter 8, from "The Furniture Deal" located at 430 Yonge St. in Ormond Beach. Johnathan Gildo and Janice Grabko of the furniture deal, quoted; "We are honored to have had this opportunity to do what we can to help support our veterans." Wanda Strickland helped with coordinating the logistics and the delivery of the mattresses. Wanda, not only does a great job as a caseworker for the center but she truly cares about the veterans. She takes a personal interest in their progress and in their future. She was our first point of contact at the center and right then and there we new that we were going to support the center. She is truly a wonderful, caring person. We are lucky to have her working with our veterans.
The Haven Recovery Center houses local veterans now on the road to recovery. RT Chapter 8 adopted the center as one of its support missions in late November of 2010. This was our 3rd visit since then. On our second visit in January we provided clothing and other personal items such as toiletries and other items, including cleaning products for both laundry and general housekeeping. Oh yes, I don't want to forget Sue, one of our members also prepared a home cooked Italian Lasagna dinner for them to enjoy. If you would like to help us help our veterans at this center or any veteran, please contact Sue Santos at: (936) 333-6149 no contribution is too small.
[like url=http://thunderroadsflorida.com/?p=1206]
About Rolling Thunder® Inc.
Rolling Thunder Chapter 8 Florida is a non profit 501(c-4) HQ' d in Volusia County. Meetings are held at 7:00 PM on the first Monday of each month at VFW Post 3282 in Port Orange. We are committed to assisting and representing all veterans, active military and their families, and to educating the public of the POW-MIA issue. To learn more about our local chapter and for information on how you can help, support, sponsor, or become a member of Rolling Thunder® Inc. Florida Chapter 8, visit our web-site: www.rollingthunderfl8.com
Rolling Thunder® Inc will be hosting along with Seminole Harley, their 2nd Annual Salute to Veterans on May 14th 2011. This event is open to the public and will feature festivities including: a Veterans Memorial Motorcycle Ride, The Traveling Viet Nam Wall, POW-MIA Flag Raising Ceremony, The Missing Man Table Ceremony, motorcycle show and classic car show, entertainment by DJ Dusty Johnson, door prizes and 50/50, raffles all day, proceeds go to The Ride Home, Rolling Thunder® Student Scholarship Fund, The POWMIA Flag and Education Program and helping local veterans in need.Come out and honor our veterans.