By "Kneecap"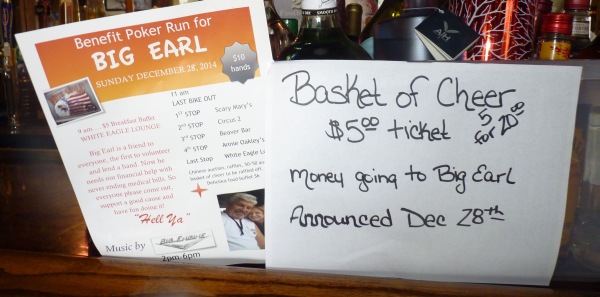 In typical Biker generosity when the community heard that a friend needed money to ensure he could have a liver transplant, they stepped up. Anybody who knew Big Earl knew that he got his name not for his size but for his big smile and pleasant attitude. He was always one that would give to anybody a nice word or a helping hand.
When the bikers learned that he needed money for unending medical bills they stepped up to the plate. When asked if they would help they said "Hell Yeah" and organized a poker run. The run started at the White Eagle Lounge went to Scary Mary's, the Circus 2, The Beaver Bar, Annie Oakley's, and ended back in the White Eagle that had a huge barbecue and entertainment by Big Engine.
There was a Chinese auction, raffles, 50-50, and the biggest basket of Cheer I have ever seen. At last count I understand that they collected $3750. Bikers never stop amazing me with their generosity and their loyalty to the community.
For cards, letters, donations…etc the address is: Earl Jeffries c/o Gabriel House of Care 4599 Worrall Way, Room #113 Jacksonville, FL 32224