By Jeani G.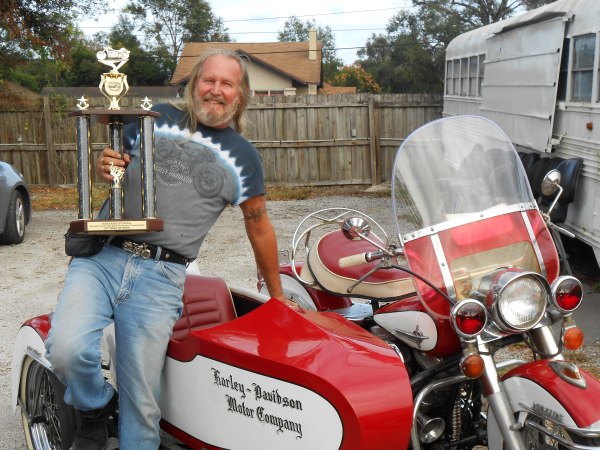 OB's Restaurant and Lounge in DeLand hosted Russ & Bob's 16th annual Panhead/Shovelhead Party on November 12th … this year's was one of the most successful yet! What started out as a gloomy morning turned into a beautiful day attended by hundreds of old-school motorcycle enthusiasts!
With so many beautiful vintage Harleys, our esteemed panel of judges: Marshall, Walter, Cap and Bo certainly had their work cut out for them … and they did a great job selecting the day's winners:
Stock Panhead trophy – Mark 1958 pan
Custom Panhead trophy – Steve 1965 pan
Stock Shovelhead – Don 1973 shovel
Custom Shovelhead – Marty 1979 shovel
The People's Choice trophy was awarded to Steve for his 1973 custom shovelhead.
Thunder Roads Magazine sponsored the Best of Show trophy which was awarded to Ron with his beautiful 1965 Panhead with sidecar!
There was live music by Penta, including a heartfelt guitar solo of the National Anthem in honor of our Veterans, many of whom were present for us to personally thank for their service to this great country of ours! Mark from Cycle Fever TV filmed the festivities – whenever you see his drone flying above, be sure to smile and wave.
Super model, Kristie O'Brien signed her glamorous cover of the November issue of Thunder Roads Florida Magazine for many avid admirers. And an awesome buffet was provided by OB, Tina, Kristie and Ashley … great hospitality is always served up by the wonderful O'Brien family!
Be sure to come out to OB's for their Wednesday Bike Nites – starting at 6 pm, featuring live music and food and drink specials … great service, great people and lots of fun! Hope to see you there!