By Ron Cox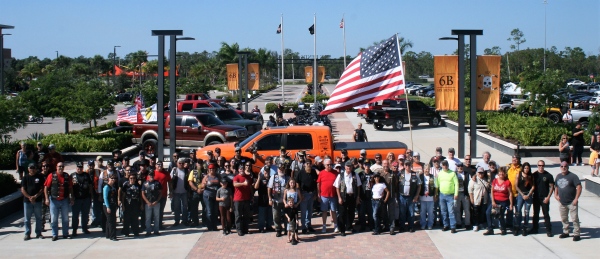 Veteran's Day saw Six Bends Harley-Davidson host its Inaugural Salute to the Brave to honor all Veterans and first responders at Top Rocker Field. The event began with the assembled Veterans and guests singing the National Anthem (with no one taking a knee), followed by a rousing chorus of God Bless America. At this point volunteers from Avow pinned each and every Veteran with a special pin of two crossed flags, the Stars & Stripes and Harley's Bar & Shield.
Veterans from all over Lee County, both HOG members and not, plus a large contingent from Naples Harley-Davidson's HOG Chapter gathered at the entrance of Top Rocker Field for a group photo. Patches could be seen being worn representing all five branches of the military. When each branch was mentioned a loud roar went up with each trying to be the loudest.
The southern rock band Unforgiven gave the crowd a sampling of its tunes, ranging from The Silver Bullet Band to Eric Clapton. Many youngsters were seen dancing to the music.
The hungry didn't have to go far as food vendors lined the perimeter of the field offering everything from enchiladas to ice cream and strawberry iced tea smoothies. Soft drink and adult beverages were also on hand. Local radio and TV stations set up shop and community organizations like Avow hospice and Collier County Honor Flights had displays.
Rounding out the day was the Olympic style obstacle course with the best time being the winner.
All in all, it was a wonderful tribute to all our Veterans.