By Marta Rose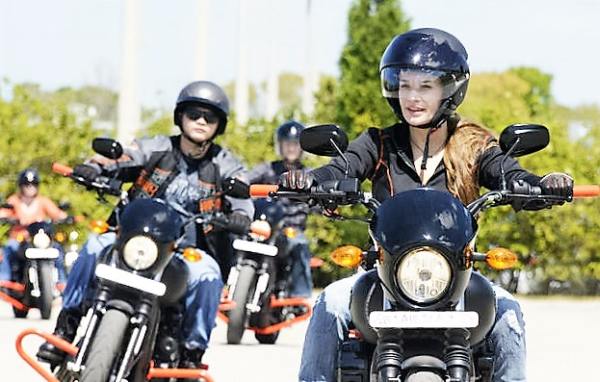 What do you call three days of riding and summer fun at five different locations in one fun Florida beach town? You call it a good time!
Then, add into the mix shopping in specialty vendor villages; day rides along the coast; a bike wash and fashion show by the Men of Harley; fun daytime meet-ups and themed evening dinners with live entertainment; workshops and seminars; biker games and a trophied bike competition; a champagne brunch with female keynote speaker; and luxurious accommodations on the beach. Well, you call that the Sand & Sass Ladies Rally, taking place this summer (August 18-20, 2016) in Panama City Beach, Florida.
"A ladies' rally is something we've wanted to do since opening our doors three years ago," says Marta Rose, Director of Marketing and Events at Harley-Davidson of Panama City Beach which opened in April 2013, nine days before the Thunder Beach Spring Rally that year. "We've had our eye on female riders for a while, creating events to engage them, accommodate them, and grow that segment of riders. Panama City Beach is a really fun place to come on vacation and such a rider-friendly town, so it's a natural fit to put on a ladies' rally here."
Fun in the sun, for sure! The Rally takes place predominantly at Harley-Davidson of Panama City Beach and Spinnaker Beach Club, with activities also happening at Club La Vela, Ms. Newby's and Runaway Bay. On Thursday, August 18 rally goers will check into their accommodations at Palazzo Resort situated on the west end of Panama City Beach's white sandy beaches and crystal clear Gulf waters, within two miles of Pier Park. Palazzo offers an array of Gulf front amenities including an elevated tropical pool and spa, fitness facility, spacious bedrooms, fully equipped kitchens, washer/dryer, and private balconies.
Women can be very particular about the type of vendors they want to see when they go shopping. The vendor villages at Harley-Davidson and Spinnaker Beach Club will contain high-end and unique vendors. "We want to showcase fun and different, not the same old thing," says Rose. Vendors will include health and nutrition items, hair accessories and head wraps, unique jewelry, good leathers and chaps, cowboy and riding boots, designer apparel, patches, a leather sewer and at least one masseuse. Conventional rally vendors selling bike parts and accessories will also be there.
The kickoff party starts at Harley-Davidson's Bike Night on Thursday night, and progresses to an afterhours party at another location. The bike competition includes preliminary contests for Best American Bike, Best Metric, Best Chopper, Best Trike and Best Antique. Class winners will compete on Saturday afternoon at Harley-Davidson. A "Forgotten Coast Ride" (85 miles each way; six hours total time) will include stops at Toucans in Mexico Beach, Apalachicola and St. George Island.
What sets Sand & Sass apart from other rallies is the interactive activities. "We've got fun things lined up from morning until night every day," says Rose. "Rally goers can take part in every single activity…or just several, or simply do their own thing." To book your condo for the Sand & Sass Ladies Rally, call ResortQuest at 800-380-4808 and identify you're with the SAND & SASS LADIES RALLY; reference Customer Code F9007. If you're interested in vending at Harley-Davidson contact marta.rose at ferman.com. If you're interested in vending at Spinnaker Beach Club contact chris at legistixsolutions.com. For more information, call Harley-Davidson of Panama City Beach at (850) 230-6485 or visit our Sand and Sass Facebook page.