By Ron Cox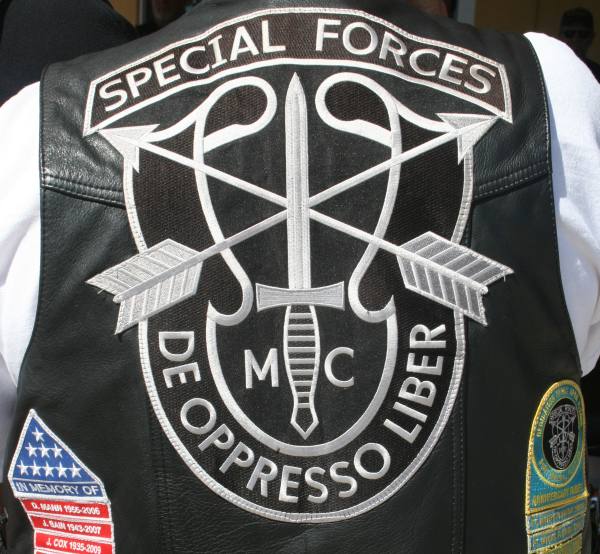 More than 200 Chapter members, guests and friends took part in the 10th Anniversary celebration of the Special Forces Motorcycle Club, Inc. (SFMC). The event took place on Saturday, March 1st and included a lunch ride to Ft.Myers Beach and ended at SFMC founder Bo McCormick's home in South Ft.Myers.
The SFMC is a philanthropic organization that focuses on Veteran's issues and raises funds for the Special Operations Warrior Foundation, Wounded Warrior Project and Paws For Patriots. The latter program provides Guide Dogs, Veteran Service Dogs and Facility Therapy Dogs through the Southeastern Guide Dog School in Palmetto, Florida. Proceeds from today's event, totaling $4,500 will be donated to Southeastern Guide Dog.
Snacks and beverages were available all afternoon along with entertainment by the Bob Inkenbrandt band. Later in the afternoon, the Calendar Girls, Southwest Florida's premier dance troupe took center stage and presented their "Peace, Love & Puppies" program. The Girls are also deeply committed to Southeastern Guide Dogs. Following a buffet dinner prepared and donated by Sgt. Majors BBQ, who came down from Lakeland for the occasion, vocalists Pearl & Sase serenaded the crowd with their own brand of easy listening music well into the night.
SFMC chapters are in Ft. Myers (Chap.1), Tampa (Chap.6), one forming in Orlando and one in Columbus, Ohio (Chap.13). The SFMC also has "at large" members worldwide. For more information go to www.specialforcesmc.org