By Ron Cox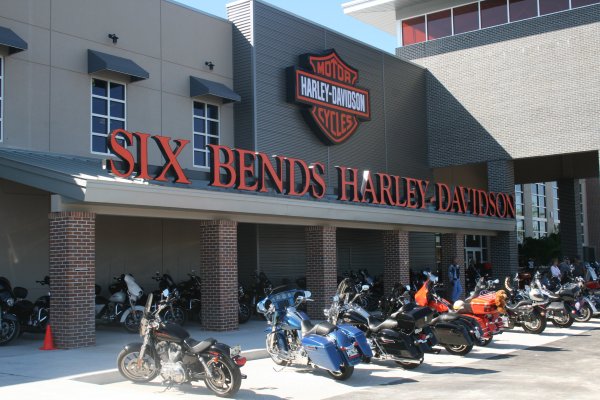 Ft. Myers Harley-Davidson, long a fixture on Colonial Blvd., in central Ft. Myers in Lee County has relocated to a brand new 54,000 square foot building on a 16.5 acre property in South Ft. Myers and renamed it Six Bends Harley-Davidson. The term "six bends" refers to the six-bend handlebars that were made popular in the 1970′s.
The new dealership is located on the southeast corner of Daniels Parkway just off I-75. In addition to the dealership there is an on-site two-acre Riding Academy and test ride track and its own entertainment venue called Top Rocker Field, which will be able to hold up to 5,000 people. Furthermore, there's a 20,000 square foot gathering space called The Plaza and a separate fire pit area known as The Pit, where people can relax or meet friends.
On the horizon in Phase two, is 35,000 square feet of mixed-use commercial space in two additional on site buildings, scheduled to open in
the summer of 2015.
Six Bends has been deeply involved in community affairs and is a major sponsor in the annual Bikers For Babies event benefitting the March of Dimes. Kicking off the event on November 14th was recording star Bret Michaels who "christened" Top Rocker Field.
So, if you're in the area and need to service your bike in one of the 17 service bays or just want to add a new T-shirt to the collection, swing into Six Bends Harley-Davidson.