By Micki Heckman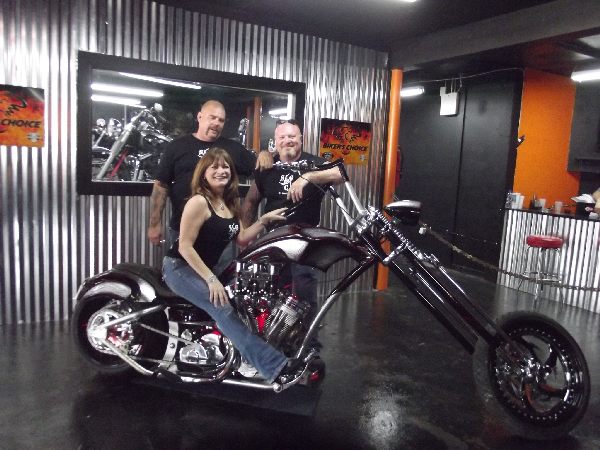 And what a Grand Opening it was! The newest and latest business venture in St. Augustine was a rousing success. The owner Amy, General Manager Alan & Service Tech Pat, along with their employees, worked day and night for a few weeks to get this awesome business up and going. The plate glass windows on Anastasia Blvd. with the eye catching logo are a show stopper.
There are motorcycles lined up along the inside, with so many choices of top of the line products in parts and accessories that will make any bike you choose or your own bike personalized. The Parts Manager Klanker would be glad to help you find just what you need for your bike. This one stop shop has all your biker needs American or Metric. They can maintain your existing bike, fabricate your wildest creation or fix your worst nightmare. Service Techs Pat and Jeramia are ready to give you the best service in the newly appointed pit area, you may view them as they work on your bike if you like. They also offer 24 Hour Emergency Pick-up Service.
This is the only shop in town that you can get an oil change for your bike while you browse around. Amy did an outstanding job of choosing the awesome display of motorcycle leathers, clothing, jewelry and accessories (for guys and gals) that it makes it so you can't resist buying at least one item, maybe two. There is also a rack for consignments which they accepted on Saturdays, clothing that is in very good condition and they also take parts and accessories too.
There was music by the band One Hit Wonder, great burgers from the Grill Master & free beers at Siren's right next door. The crowd grew all afternoon and even a few rain showers didn't dampen the spirit and liveliness of everyone. There were give-a-ways, games, and free bike washes by some very shapely and pretty young ladies. Thanks for the great party Amy, Alan & Pat, Rich and I enjoyed it and we wish you all the best in your new business.
One Response to "Six Gun Cycles Grand Opening"