By Amy Poole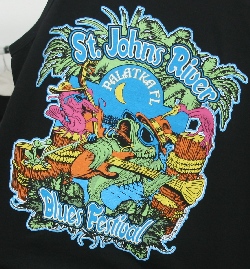 The 3rd annual St John's River Blues Festival, who also sponsored our front cover in November, started out quite chilly and as the day went on…it got chillier. That "short little ride from everywhere" seemed to take a little longer to get home! With that said, it did not keep people from strolling St. John's Street that was blocked off for our entertainment with 2 large stages for the 18 talented musicians.
Wandering the festival you would have been amazed, at first, on how many vendors there were and secondly, all the assorted types of vendors from cowgirl hats in all styles, fashionable jewelry, candles in all colors and scents, guitars for big or little people, wreaths for all occasions…and I could go on and on.
The various food vendor scents drifted down the street making you not sure where to eat but the cup cake and goodies booth was a no brainer! One block was a kid zone and was full of toys, bouncy houses, and games for the children…and even some of our adult kids horsed around! This is a great event for all ages with many activities to see, play a part or simply sit back and enjoy the show.
Also featured during the Blues Festival at the Downtown Blues Bar and Grille was a Thunder Roads Florida and Twisted Tea Event. The music was fabulous, the giveaways were endless and one lucky woman ran off with the $100 cash door prize…oh and the cute little Twisted Tea girls handed out Tea samples and loads of Twisted Tea gear. We would like to thank Twisted Tea for not only being a sponsor of the Blues Fest but for also throwing a "Twisted" event with Thunder Roads Florida.
Most of you are familiar with these events and if you're not you are missing out…so make sure you pick up your Thunder Roads issues and look for our events in the future.