By Tony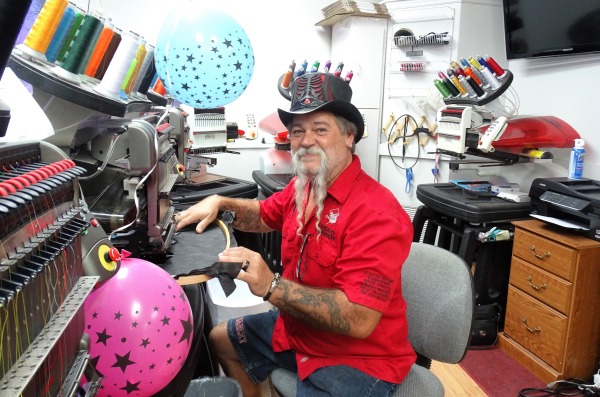 It's three years into the business and it's time to cut the ribbon. Nancy and Sean, owners of Stargazer Embroidery did just that, with an open house at the shop with food, music, beverages and even a couple of guest bartenders.
As T-Rex and I roll in, the plaza is full of bikes and cars. The music's going courtesy of Laura's Juke Box and tables are set up out front with food from DIYM catering from Titusville. The guest bartenders Shana and Karli from H-D Roadhouse were busy pouring beverages for the crowd. Inside the shop, local businesses donated gift baskets and gift certificates to be raffled off. If it wasn't for the beverages, food and music, it looked like a regular day at the shop, with people placing orders and buying patches and Nancy and Sean sewing them on vests. But then 5 pm hit and it was time for the ribbon cutting ceremony which Nancy has been waiting 3 years to do. The Cocoa Beach Chamber of Commerce brought the scissors and Nancy and Sean cut the ribbon. The party continued into the evening hours with bikes showing up way into the night.
We met Nancy and Sean a few years ago when T-Rex was looking for some new ink and I wandered off into their shop. First thing I heard was machinery running (sewing machines) and they got my attention. I asked about a custom patch, she asked how many? I say one, she says no problem. I'm sold. She does all my sewing now.
So, three years later, twice as many machines and they will still make me one custom patch if I ask. If ya check out Sean's shorts you will see he's been doodling on them with those sewing machines and does some cool work. Even here at Thunder Roads Florida we have had Stargazer do custom hats for us. If you're looking to have some embroidery done…they are my #1 choice. And if you're looking to get patches, shirts, hats, etc…etc… check out Stargazer Embroidery in Sharpe's Plaza on U.S.1 in Cocoa…tell them T-Rex sent ya.
P.S. and a Happy 1-year wedding anniversary to Nancy and Sean from all of us at Thunder Roads Florida Magazine!