By T-Rex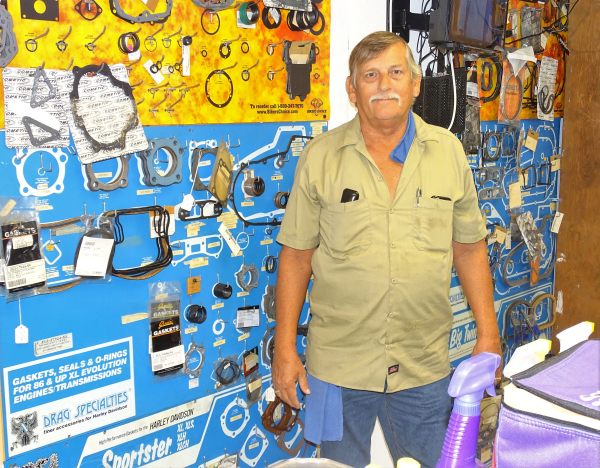 I wake up around 7am, make coffee, head into my shop and remember I need a primary gasket for a 1989, 883 Sporty. Wait till 9 and head over to "Steve's Cycles" because I know Steve has a wall of gaskets and he's got mine.  I met Steve back in '09 when I was birding back and forth every couple of months. He was on Rt. 520 then. Now he is off Rt. 1, but he's been in Brevard for 16 years. Steve started it all off in Rockledge, had a fire in one shop.
Now he is located at 839 N. Cocoa Blvd., Cocoa. Originally from Illinois he grew up working at his family's saw mill and in his free time was riding and wrenching motorcycles. Steve's shop can cover most of your needs between the wall of gaskets and brakes. 90% of the time he has what you need in stock or can get it overnight. He's got a selection of new and used parts. Steve does motorcycle sales and consignment sales, service and repairs on most models.
Yes, they fix metric, BMW and even Triumphs plus H-D's. He's also a franchise scooter dealer and V-8 choppers, with all this going on mechanic, Paul Adams, barely has time for lunch. Paul's been in the business for 6 years now and is very knowledgeable about most bikes with Steve's experience in the field they can figure anything out. So, I asked Steve what's your bike of choice, he gives me that look…and I know he owns a new H-D, his reply is his Victory cross country tourer. Well now ya know Steve's Cycles is still alive and well, so stop in and get your bike serviced. It's riding time!