By Raven Van Pelt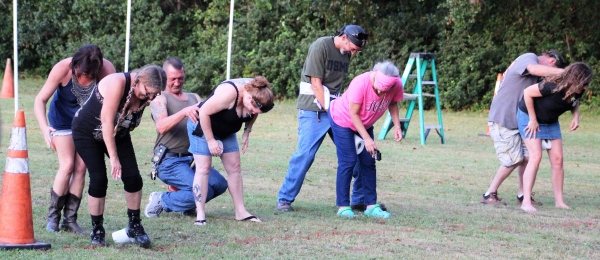 On Saturday, October 7, the Northside Independent Motorcycle Riders of Duval, (AKA the NIMRODs), hosted their 2017 Fall Biker Rodeo at the Conklin Ranch in North Jacksonville. The NIMRODs are not a club or organization; they are a group of North Jacksonville old school like-minded bikers that love to ride on their own terms and are some of the most generous folks you will ever meet. Each time they host a rodeo, it is in support of someone in need; whether it is a family experiencing hard times, or someone who was diagnosed with a worse-case scenario. This past event was in support of an 11 yearold child name Nicholas "The Brave" Parscale, who has stage 4 inoperable Glioblastoma, a rare and devastating brain cancer.
Over 100 people came out to the private event, partied, swam and enjoyed bikers participating in old school motorcycle rodeo games such as "The Slow Roll", "The Plank Roll", "The Keg Roll", "The Weinee Bite" and more. The NIMRODs cooked an 80lb. plus pig, the American Legion Riders Chapter 9 donated hamburgers and hotdogs and everyone who came brought other main courses and side dishes for a feast to end all feasts with donations for Nicholas accepted. Mail Box King donated a custom brick mailbox, valued at $700, which was raffled off. The winner of the raffle, Phil Reddy, donated the mailbox back with the request that it be auctioned off to the highest bidder and the money be given to Nicholas. There was a 50/50 as well. With everyone's support, the event raised over $1,600 that day and an anticipated $500 more once the custom mailbox sells at auction. Every penny given to Nicholas. Hopefully this will help him and his family in this sorrowful time of need. In the words of one of the original NIMROD's called Peckerhead… "It's what bikers do!"
If you are out and about in Jacksonville, Florida and see someone in a NIMROD T-Shirt, make sure to shake their hand and thank them for their selfless support of the Community that surrounds them.