By Deborah Speicher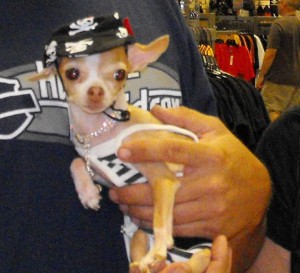 On the weekend of July 28-29, Fletcher's Harley-Davidson in Clearwater held their annual Dog Days of Summer. Dog (and cat) owners were invited to bring their pets into the store for professional photographs with all the monies being donated to Bay Area DART (Disaster Animal Response Team). Fletcher's H-D would also match all the funds collected.
This year's event was bitter sweet. Bob Fletcher, the founder of the store, had passed away on June 9, 2012. Bob was 90 years "young" and had continued to ride his motorcycle up until about two years ago. In his heyday, he was an avid motorcycle racer.
After 48 years in the motorcycle business, his family decided to close the store. The Dog Days of Summer would be the last benefit they would hold so I felt it fitting to be there. Lots of dogs and even one cat showed up on that Sunday afternoon. The parking lot was packed full of motorcycles as many locals also came out for the big sales.
We will miss this iconic "biggest little" Harley-Davidson dealership and wish the Fletcher family the best.