By Lulu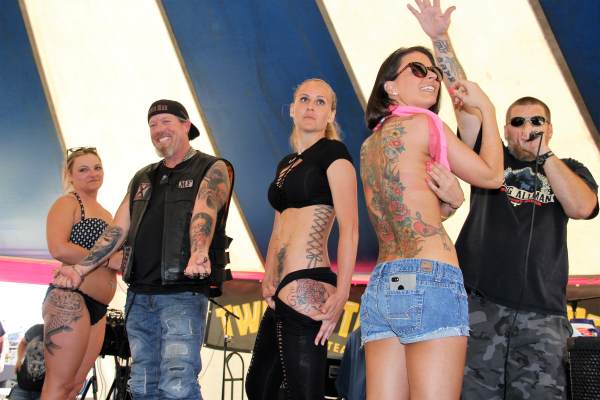 If you own a motorcycle and haven't been to Panama City Beach to a Thunder Beach rally in either the spring or the fall you must have a bike that you just don't ride! The beaches are beautiful, the restaurants delicious and Men the girls are hot!! If I had to mention a negative aspect of this rally it is simply traffic, but that didn't seem bad this year because of the cooler than normal temperature.
And if you visit there enough you can get off the main roads and find cut through routes to most anywhere you want to travel. This event has grown over the years and really consists of three locations and participating bars. Pier Park which has vendors, the Best of Thunder Beach Custom Bike Show and American Bagger's Baddest Bagger Competition. Aaron Bessant Amphitheater is adjacent to Pier Park and hosted their headliners, the LED Bike Competition sponsored by Custom Dynamics and the finale of their bikini contest.
Frank Brown Park which has a ton of vendors, tattoo contests, motorcycle stunt show and live music, and of course, the Harley-Davidson of Panama City Beach. At the dealership Paul Sr., Mikey and cousin Nick from OCC fame were on hand to reveal a new custom bike! Bikini bike washes are all over town which is a good thing because of the salty air. There are bike rides, cool bars and beautiful women of ALL ages in bikini competitions the entire event.
The music in town for the spring rally included Buckwild at Hammerheads, Mustang Sally at Sharky's to name a few, and Jack Russell's Great White, Geneva, and Molly Hatchet on the big stage. We stayed at the Holiday Inn Resort which we LOVE! So, get your plans ready for their fall rally October 25-29 and join us for a great weekend!